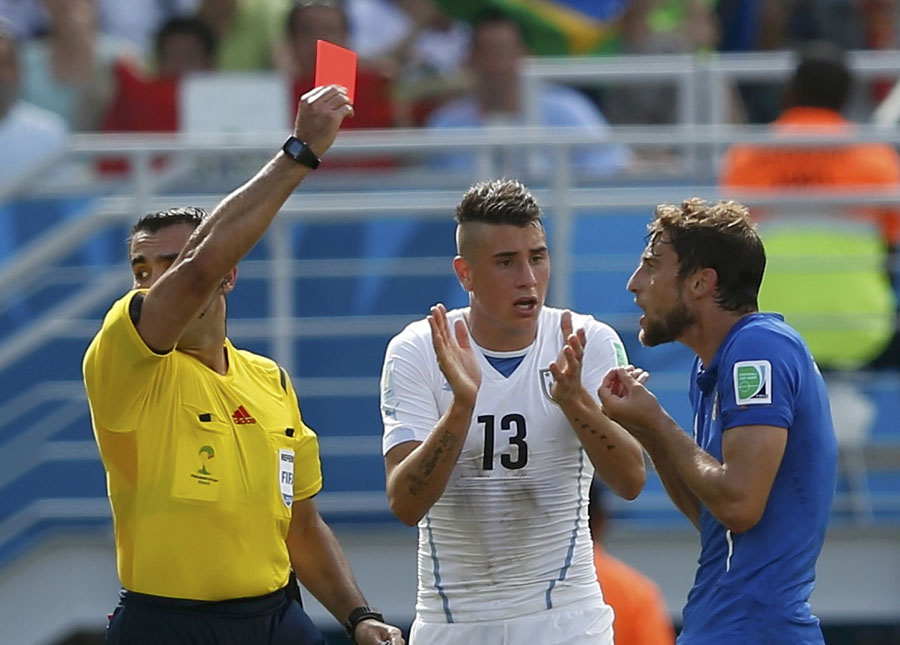 Italy's Claudio Marchisio (R) reacts after referee Marco Rodriguez of Mexico (L) shows him a red card during their 2014 World Cup Group D soccer match against Uruguay at the Dunas arena in Natal June 24, 2014. [Photo/Agencies]
NATAL, Brazil - Another biting storm involving Uruguay striker Luis Suarez overshadowed a dramatic 1-0 World Cup victory over Italy on Friday which sent the South Americans through to the last 16 and the four-times champions home.
The Italians were still complaining about Suarez's apparent bite on defender Giorgio Chiellini when Diego Godin scored the winner nine minutes from time to give Uruguay the victory they needed to progress from Group D.
The incident only exacerbated the Azzurri's sense of grievance at their exit before the knockout stages for the second successive tournament after Claudio Marchisio's dismissal had forced them to play with 10 men for half an hour.
"The expulsion of Marchisio was ridiculous but even more ridiculous was the non-expulsion of Suarez," Chiellini said.
"Clearly there is a desire to protect the top players but this doesn't help football.
"It is clear, clear-cut and then there was the dive afterwards because he knew very well that he did something that he shouldn't have done."
Until Marchisio's dismissal, it looked like Italy would succeed in suffocating Suarez and the Uruguay attack and secure the point they needed to qualify along with Group D winners Costa Rica.
Godin's goal meant Uruguay, semi-finalists four years ago, advanced to a clash with the Group C winners in Rio de Janeiro on Saturday, but they could well be without Suarez.
FIFA said it was investigating the biting claim and the controversial striker faces the possibility of a lengthy ban if found guilty.
"I did not see the incident and I will not make any more comments about it," Uruguay coach Oscar Tabarez told reporters.
"Luckily we have played many matches without Suarez during the qualifiers and some we won and some we lost."
The controversial incident occurred 10 minutes from time when Suarez clashed with the defender in the Italian penalty area and a furious Chiellini pulled open his shirt to show his shoulder to the referee.
Suarez was banned for 10 games last year after biting Chelsea's Branislav Ivanovic in a Premier League game and in 2010 he was suspended for seven games for biting an opponent while playing for Ajax Amsterdam.
BRUTAL DISPLAY
It was a dramatic and controversial end to a match which started with Italy keen to show they had rediscovered their traditional defensive miserliness.
Chiellini clattered into Suarez after the striker got his first touch of the ball to give away one of seven fouls in the opening eight minutes of the contest.
Italy coach Cesare Prandelli, who offered his resignation after the match, had made his intentions clear by starting with a 3-5-2 formation and for most of the first hour the Azzurri succeeded in shackling the Uruguayans.
It was a brilliant if often brutal display of the art of defending from the Italians, who, when they lost possession, swarmed around the Uruguay players and fouled them with monotonous regularity.
Suarez was successfully subdued for the most part and when he did break free from his minders, Italian goalkeeper Gianluigi Buffon got a hand to his cut back in the first half and saved well when he was put through on goal after 66 minutes.
Italy withdrew striker Mario Balotelli at halftime for another midfielder in Marco Parolo, an indication that Prandelli would have been happy if the 39,706 crowd had left the Dunas arena without seeing a goal.
His midfield was back down to first-half numbers after 59 minutes, though, when Marchisio went over the ball to catch Egidio Arevalo Rios on the knee and was shown a straight red card.
The ill-tempered match had just boiled over again after the bite allegation when Godin, Uruguay's stand-in captain, rose above a scrum of players in the Italy box to power Gaston Ramirez's corner into the net off his head and shoulder.
Italy poured forward to try to rescue the situation but Andrea Pirlo's 85th-minute free kick was their best chance and it was saved by Uruguay keeper Fernando Muslera.
Captain Buffon also complained about the red card but said Italy also had themselves to blame for their departure having scored just two goals in Brazil - their worst World Cup tally since 1966.
A fuming Prandelli, though, placed the blamed squarely on the shoulders of Mexican referee Marco Rodriguez, who, he said, had "ruined the match".
"Now people will talk of elimination, of failure, but the match was dictated by the referee," he said.
"It's ridiculous to be down to 10 men in a game like this. There weren't any bad fouls or anything that merited a sending off. You can't affect a game like that."