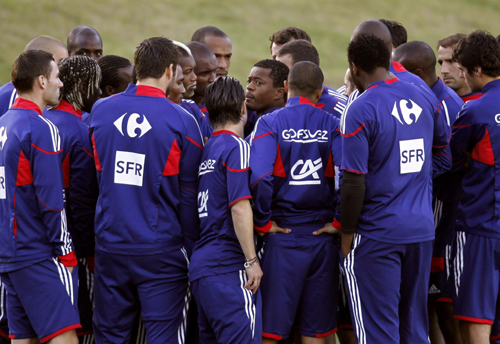 France's national soccer team players listen to their captain Patrice Evra (C) before deciding not to take part in a training session in Knysna, near Cape Town June 20, 2010. [Agencies]
Related Reading:  France kick Anelka out of World Cup
CAPE Town, South Africa - After refusing to train on Sunday, the French players released a statement protesting against the Chelsea striker's exclusion from the squad.
"All the players in the French squad without exception wish to affirm their opposition to the decision taken by the French Football Federation to exclude Nicolas Anelka," said the statement.
The players' refusal to train prompted top French Football Federation official Jean-Louis Valentin, whose job is to liaise between the team and the federation, to announce he was resigning.
"I am disgusted, I am quitting my post," said a disappointed Valentin."It's a scandal for the French, for the young people here. It's a scandal for the federation and the French team. They don't want to train. It's unacceptable."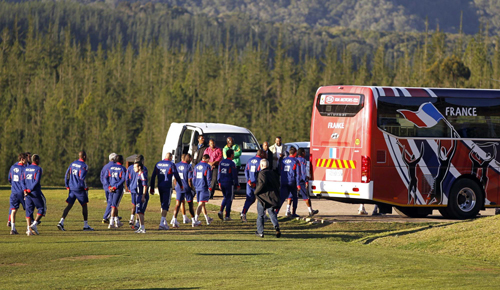 France's national soccer team players return to their bus after refusing to take part in a training session in Knysna, near Cape Town June 20, 2010.  [Agencies]
The latest chaotic scene came one day after striker Nicolas Anelka was expelled for verbally insulting coach Raymond Domenech during the defeat to Mexico which left France facing elimination.
The French squad arrived at the training court as usual on Sunday. But before the training session started, captain Patrice Evra and team fitness coach Robert Duverne burst into furious argument before Domenech walked over to intervene.
The wroth Duverne stormed away and the squad left the ground and returned to their team bus.
France only got one point from their opening two group matches, with no goal scored. They will face hosts South Africa in the last group round on Tuesday and even a win can not guarantee France to enter the knockout stage.