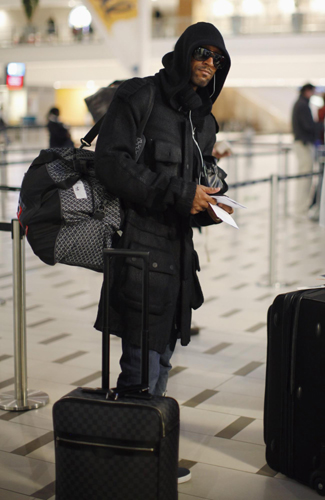 French soccer player Nicolas Anelka waits in line to check-in his luggage as he board a flight to London at the international airport in Cape Town, June 20, 2010. [Agencies]
Chelsea star lashed out at Domenech at halftime of game against Mexico
KNYSNA, South Africa - France kicked star striker Nicolas Anelka out of the World Cup on Saturday after a foul-mouthed tirade at coach Raymond Domenech during the 2-0 defeat to Mexico.
L'Equipe sports daily claimed the Chelsea forward told Domenech to "go screw yourself, dirty son of a whore" at halftime of Thursday match in Polokwane after the coach criticized his first-half performance.
Related readings:


 France on verge of elimination


 Mexico leave France on brink of exit

 Mexico beat France 2-0 in World Cup match


 Ten-man Uruguay held 0-0 with France in World Cup
Anelka's exclusion laid bare the divisions within the French camp in a disastrous World Cup campaign when captain Patrice Evra refused to condemn the striker but said there was a "traitor" in the squad who had leaked the bust-up to the media.
The France Football Federation (FFF) said Anelka would leave South Africa on Saturday after he refused to apologize for his "unacceptable" outburst.
"Anelka's remarks are totally unacceptable for the FFF, French football and the values it defends," said an FFF statement.
"The president of the FFF, Jean-Pierre Escalettes, asked Nicolas Anelka, in the presence of captain Patrice Evra, to apologize.
"With the refusal of the player to publicly apologize, it was decided in full agreement with the coach and members of the delegation in Knysna to exclude Nicolas Anelka from the squad."
Anelka admitted having a "heated discussion" with Domenech but denied using the words quoted in L'Equipe.
"I certainly had a heated discussion with the coach but it happened in the sanctity of the dressingroom, between the coach and I, in front of my teammates and the team's staff.
"This should never have left the dressingroom," the 31-year-old striker told France-Soir newspaper.
"I insist that the words which have come out in the press are not my words," he said, although he declined to reveal exactly what he said.