The religious bracelet on Tiger Woods' left arm during his brief television interviews is a fairly common symbol of Buddhism, experts on the faith say.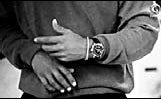 The two thin bands encircling Woods' wrist came up on Sunday, near the end of his interview with Golf Channel reporter Kelly Tilghman. Woods also spoke to ESPN. The interviews were his first since Woods' serial infidelity became known late last year and he began undergoing therapy.
Tilghman said she noticed the bracelet and asked what it meant.
Related readings:


 Love cheat Tiger was 'living a lie'


 Woods: 'A little nervous' about return at Masters


 Nicklaus surprised Woods opts to go to Masters 'cold'


 Tiger's aura gone, but what about skills?


Ex-porn star reveals purported Tiger Woods texts
"It's Buddhist," Woods said, referring to his childhood faith. "It's for protection and strength. And I certainly need that,"
Woods explained he had been wearing the bracelet since before he went into treatment and he would wear it during the Masters. Beyond that, he didn't discuss its significance or origin.
However, it is common for Buddhists to wear such items as a reminder of their faith, said Jimmy Yu, professor of Buddhist and Chinese Studies at Florida State University in Tallahassee.
"Sometimes Buddhists, when they receive some kind of initiation into a certain practice, especially in the Tibetan Buddhist tradition, they would be given a red thread, (to) go around the wrist," said Yu. "It sounds like this is what he was wearing."
Wearing bracelets, necklaces or other reminders of their faith are fairly common for practitioners of Buddhism, Yu said.
Hundreds, if not thousands, of Websites sell Buddhist jewelry, from 24-karat gold Buddha necklaces to simple wooden malas, or prayer beads, that practitioners can use while meditating.
Associated press