Chinese fans who stayed up throughout the night to watch Ding Junhui win his second UK Championship snooker title yesterday morning are in for a treat.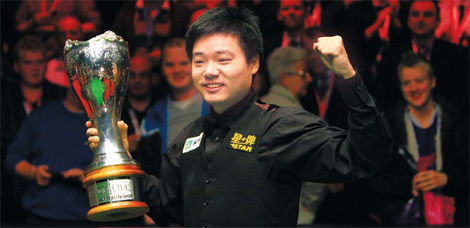 China's Ding Junhui celebrates after defeating Scotland's John Higgins 10-8 in the final of the Snooker UK Championship in Telford, England, on Sunday.
[AFP] 
Having probably forsaken breakfast to watch the Chinese star's marathon 10-8 final victory over world champion John Higgins, Ding has promised family and friends 276 meat pies.
"I will bring the pieces for you guys," Ding said on his blog an hour after his victory. "Thank you for spending a whole night supporting my play."
Related readings:


 Ding Junhui wins UK championship


 Liang's Shanghai run brings him out of Ding's shadow


 Ding looks to bounce back at home


 Chinese snooker star Ding finds new role in cartoon


Snooker ace Ding to donate bonus for quake relief
Ding collected the first prize of 100,000 pounds ($162,455), the largest payday of his career, rose to sixth in the provisional world rankings and was also presented with his weight, 68kg, of the sponsor's product, which totaled 276 pies. "I was excited about winning my body weight in pies," said Ding. "We all made sure we were wearing a few extra layers of clothes for the weigh-in and I wanted to put a few snooker balls in my pockets but I wasn't allowed."
On a more serious note, Ding said: "I know lots of fans, my family and friends have kept supporting me even when I was struggling over the past few years. I really appreciate that."
Li Hao, a loyal Ding fan, said it was worth spending a whole night awake, failing to have breakfast and even arriving late for work to see his idol triumph.
"Having Ding return to his best is the greatest reward for us fans," said Li, a bank employee in Beijing. "We cannot wait to eat the pies and see his trophy when he returns home."
Asian No 1
Smiling confidently, kissing the trophy and showing his fist to the audience, Ding, who is generally camera shy, had every reason to celebrate this time.
He is now the most successful Asian player in professional snooker history. The victory gave Ding, the 2005 UK champion, his fourth ranking event title - surpassing the three titles won by Thailand's James Wattana.
The 22-year-old also becomes only the seventh player - after Steve Davis, Stephen Hendry, Mark Williams, Doug Mountjoy, Ronnie O'Sullivan and Higgins - to win the UK title twice.
"I think I am a better player now," Ding said when asked if he had improved in the four years since winning his first UK title. "I am more experienced. Now I tell myself 'don't get angry'.
"I had been working so hard before this tournament, harder than ever," said Ding. "I did not take a day off and spent at least seven hours in training each day.
"I started a bit slow in the first match (against Mike Dunn) but I kept focused and felt better match after match."
It was Ding's first major tournament victory since claiming the 2006 Northern Ireland Trophy and suggests he has overcome the mental scars inflicted by a 10-3 hammering at the hands of O'Sullivan in the 2007 Masters final.
"I tried not to be distracted this summer break. So I traveled a lot in China and had a great time," he said.
Ding showed signs of improved form after his break when he reached the quarterfinals of the Shanghai Masters in September.
He took another step forward in October when he made the final of the Grand Prix at Kelvin Hall, Glasgow.
Asked about his prospects of winning a first world title, Ding said: "I try every year but there are players better than me ... but anything can happen in tournaments."