Sun Haiping, head coach of world 110m hurdles champion Liu Xiang, believes he will be able to tap into Liu's full potential at next year's Beijing Olympic Games, where the athlete will try to defend his gold medal on home soil.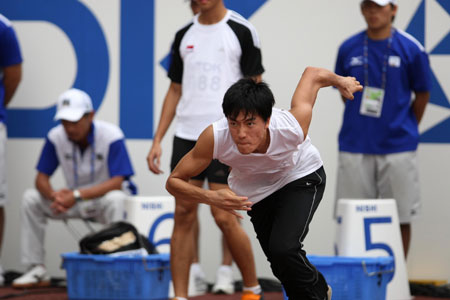 Olympic and world champion Liu Xiang runs during a training session before the 11th IAAF World Athletics Championships in Osaka in this file photo taken on August 29, 2007. Liu's coach Sun Haiping said on Thursday he would be able to tap into Liu's full potential at next year's Beijing Olympic Games. [Xinhua] 
"Liu still has potential. We still have work to do to dig it out in order to win a gold medal in Beijing," Sun said.
There have been doubts whether Liu, who set the world record at 12.88 seconds last year, still has any more room for growth. But Sun insisted that Liu continues to show improvement in recent trainings.
"We have set up a very detailed training plan and competition schedule for him," Sun said, adding that Liu feels he has improved in recent training sessions.
"Officials from the State General Administration of Sports once told us if Liu could not win a gold in Beijing, all of his previous achievements would become meaningless. So we have to take everything possible into consideration to keep him in a top form," the coach said.
Though Olympic aspirations are their main concern, Sun also said they are always thinking of trying to break the world record again.
"First of all we have to set up a solid base during the winter training session. Then we will hope there are decent weather and wind conditions, strong opponents and Liu is in prime form in a major competition next year. When there are chances (to break the record), we will not let them slip away."
Sun said Liu's healthy mental state is also very encouraging.
"I am so glad to see Liu is in very good form, both physically and mentally," said Sun. "Ladji Doucour of France was the 2005 world champion. He was in his prime but has fallen off ever since. I think the main problem is that he was not focused in his mind."
But Sun still regards Doubour, as well as Cuba's Dayron Robles and American Terrence Trammell, as Liu's main threats in Beijing.
"To win the Olympic gold, Liu has to run in under 13 seconds. Allen Johnson has run under 13 seconds 12 times, but he is too old to pose a threat," Sun said. "Liu has run under 13 seconds five times, while Trammell has done it twice and Robles once."
Sun said they will not attend the IAAF's World Athletics Gala for the World Athlete of the Year and Performance of the Year award ceremony in order to prevent Liu's training routine from being interrupted. The ceremony will be held at the Salle des Etoiles of the Sporting Club d'Et in Monaco on Sunday.
Liu is one of three finalists in the running for the Male Athlete of the Year award.
He is up against 100m and 200m world sprinting champion Tyson Gay of the US and Ethiopian marathon-runner Haile Gebrselassie.
"We have received IAAF's invitation. But we choose not to go, as the journey will interrupt the winter training session.
"This period is very important for Liu's future performances as he is undergoing a training session for rehabilitation.
"After this period we will kick off the closed-door session until March. From March to June, we will compete in some tournaments to test the outcome of trainings. Every session is so important that we can not ruin the plans."