Chongqing banks on railway freight links to expand business connections with Europe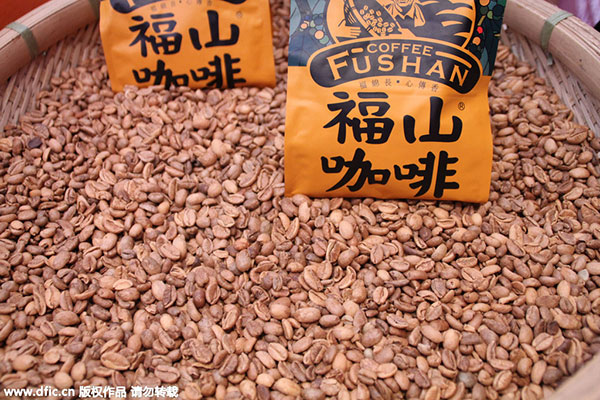 Coffee beans produced in Fushan, Shandong province. [Photo/IC]
China expects its railway links with Europe to give a much-needed impetus in making the nation an important coffee trading hub in Southeast Asia.
Yunnan-based coffee producer Hogood Coffee Co said on Thursday that it would use the Chongqing-Xinjiang-Europe (known as YuXinOu in Chinese) international railway line for exporting coffee products to Europe as it not only cuts costs, but also saves time.
The 11,000-kilometer Asia-Europe rail link, which started operating in 2011, passes through Xi'an, Lanzhou, Urumqi and the Alataw Pass, where it crosses the border into Kazakhstan. It then continues through Russia, Belarus and Poland before ending in Duisburg, Germany.
The journey takes about 14 days, one third of the time taken by the maritime route. The rail link is now the busiest cargo freight route between China and Europe, according to the Chongqing YuXinOu Logistics Company.
Hogood, established in 2007, owns a quarter of the coffee plantations in the country and is the largest instant coffee producer in China, with an annual output of 13,000 tons. It also accounts for about half of China's coffee exports and has among its clients major brands including Nescafe, Maxwell and Kraft.
The company along with Chongqing Energy Investment Group and Chongqing YuXinOu Logistics Company plan to transport 30,000 tons to 50,000 tons of coffee to Europe this year. Shipments will rise to 100,000 tons to 150,000 tons in 2016 and to 250,000 tons to 300,000 tons in 2017.
Within three years, Chongqing plans to gather over 1 million tons of coffee from other Asian nations, especially from Vietnam and Indonesia, the second- and third-largest coffee producers in the world, and transport it to Europe.
Xiong Xiangren, founder of Hogood Coffee Co, said: "Being situated at the junction of the 21st Century Maritime Silk Road, the Silk Road Economic Belt and the Yangtze River, Chongqing has many advantages that could help it become the world's third-largest coffee futures market after New York and London."
The YuXinOu railway puts the city on the map as an international logistics hub by connecting the Yangtze River Delta economic belt to Europe.
The new link is an attractive alternative for trading companies in Chongqing and neighboring provinces that otherwise use the more time-consuming and costly maritime route via southern Chinese coastal ports, including Shanghai, Guangzhou or Shenzhen, before shipping goods through the Strait of Malacca.
Its neighboring province Yunnan is the largest coffee producer in China, with its output accounting for almost the entire national output. It is estimated that the area under coffee in Yunnan will expand to more than 167,000 hectares by 2020. By that time, the total output value would have exceeded 35 billion yuan ($5.6 billion).
Xiong Xiangren, founder of Hogood and also the director of Yunnan Coffee Association, said that Chongqing's comprehensive logistics network was the main reason why the company chose to work with the city, instead of Shanghai.
"Asia produces one third of the world's coffee and it has two thirds of the world's population," said Xiong. "I believe in 10 years, China will become the world's largest coffee drinking country, so there must be at least one major coffee futures market in Southwest China."
Though Yunnan is an ideal region for coffee planting, it lags in brand management, international trade and financial services, said Xiong. "If we want to become a world famous coffee company, we need to work with Chongqing," he said.