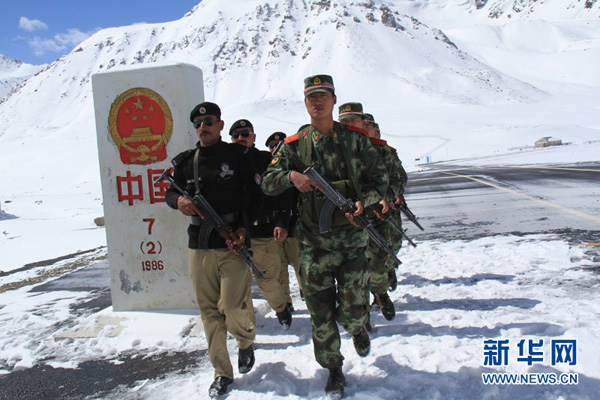 Chinese and Pakistani soldiers patrol the border near the Khunjerab Pass,a strategic point on the Karakoram Highway, which links China's Xinjiang Uygur autonomous region with Pakistan's Gilgit-Baltistan. The Pass played an important role in the ancient Silk Road. [Photo/Xinhua]
1. First Silk Road Fund investment
China announced on April 21 that the first investment of its $40 billion Silk Road Fund will be in China Three Gorges South Asia Investment Ltd, a subsidiary of China Three Gorges Corp, to develop the Karot hydropower project on the Jhelum River in northeastern Pakistan.
The Karot hydropower station is one project within a larger China-Pakistan Economic Corridor initiative, which plans to build a $46billion, 3,000 kilometer route from the Xinjiang Uygur autonomous region to Gwadar Port on the Arabian Sea. The route crosses the Karakoram mountain range and Pakistan's Balochistan province, connecting China, Pakistan and the Arab world, the statement said.
The project will be funded through a mix of equity and loan investments, according to a statement released on the website of the People's Bank of China, the central bank.
The infrastructure construction project, under the framework of the China-proposed Silk Road Economic Belt and the 21st Century Maritime Silk Road initiative, is expected to ease the electricity shortage in Pakistan and support its economic development.