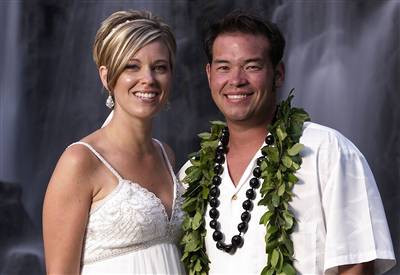 After filing papers in June to end their 10-year marriage, Jon and Kate Gosselin's divorce is set to become final before the start of 2010, despite a statement by a lawyer for Jon that it won't happen until next year.
According to a source familiar with the ongoing talks, both sides have agreed upon the details of the divorce and the papers just need the judge's signature.
One item of contention in the divorce didn't surface until late in the game: Jon's gun. Jon was recently spotted shooting a .38 pistol on the property he and Kate own in Wernersville, Penn. On Thursday, a judge issued a court order barring the gun from the property. Expect that ban to remain in effect as part of the divorce agreement. The source said that it's been agreed the gun is not allowed in the house with the kids.
As for how the divorce might affect TLC's relationship with Jon and Kate, the network had no comment, but a production source doesn't foresee a scenario where the network would change its stance. For now, they have plans only for the new series centered around Kate, and "have no plans to shoot the kids," according to that source.