Expo shows off Ningxia's tourism possibilities
(chinadaily.com.cn)
Updated: 2015-09-10
The Ningxia Hui autonomous region, which is holding the China-Arab States Expo in its capital, Yinchuan, Sept 10 - 13, is also promoting its tourism while looking for business opportunities at the 2015 China-Arab States Tour Operators Conference, which opened on Sept 8 as both a warm-up activity and an integral part of the Expo.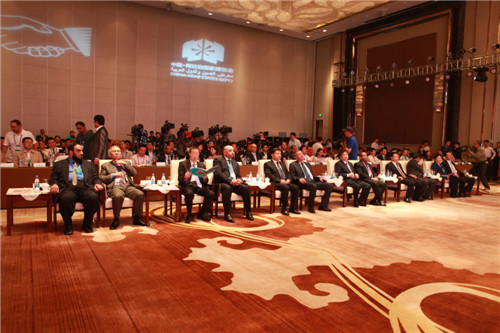 The 2015 China-Arab States Tour Operators Conference opened in Yinchuan, capital of the Ningxia Hui autonomous region, on Sept 8. [Photo provided to chinadaily.com.cn]
At the four-day conference, the emphasis is on Ningxia's opening-up and its role in promoting tourism and business for China's Belt and Road initiative, which refers to an economic belt along the old Silk Road and a Maritime Silk Road for the 21st Century. This will help Ningxia increase exchanges and cooperation among countries along the road and expand markets in the Muslim world and be a center for trade with Arab States and a tourist destination for them.
It had an opening ceremony and has a China-Arab States Tourism Commodities Exhibition, B2B business negotiations, promotions of tourism resources, a signing ceremony, and research on travel routes.
The China National Tourism Administration held a promotion event to introduce China's tourism resources and the expo's guest country of honor, Jordan, which is also showcasing its tourism. The deputy head of the China National Tourism Administration, Li Shihong, addressed the opening ceremony, where he said China wants to lure Muslim tourists with more direct flights, simpler visa procedures, tourism products, and branding strategies, and Chinese and Arab tour operators held negotiations on investment projects, transportation and travel groups, and signed six major deals.
Present at the opening ceremony were Wang Rugui, deputy director of the Ningxia Congress, Wang Heshan, Ningxia's deputy governor, Zuo Jun, vice-chairman of Ningxia's Party Committee, and officials and ambassadors from Jordan, Maldives, and Malaysia, along with officials and business people from Saudi Arabia, the United Arab Emirates, Iran, Egypt, Singapore, Indonesia, Lebanon and a dozen other countries.