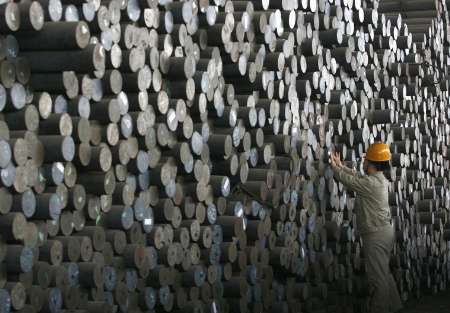 A labourer marks steel bars at Wuhan Iron and Steel Group in the capital of central China's Hubei province in the file photo taken in 2007.[Agencies]
WUHAN - China's third largest steel maker, Wuhan Iron and Steel Corporation (WISCO), completed a joint venture on Wednesday with Australian Centrex Metals Ltd corporation (CXM) to develop iron ore mines on south Australia's Eyre Peninsula.
Related readings:


 Australian gov't approves Chinese investment in Centrex


 Wuhan Iron & Steel to increase output by 24% next year


 Chinese mills start iron ore talks with miners - report


 Wuhan Iron, CVG ink iron ore deal
WISCO paid AS$51.5 million ($43.7 million) to CXM for mineral exploitation rights and another AS$50 million to the joint venture to cover the cost of the first-phrase exploration, said sources of the central-China-based WISCO.
The joint project, with an estimated investment of $1.5 billion, is expected to annually produce 33 million tons of raw iron ore, along with 10 million tons of refined iron ore, the sources said.
With a controlling share of the new joint venture, WISCO would have the final say on the exploration and operation of the Australian iron ore mines.
CXM, a company listed on the Australian Stock Exchange, owns several mining sites in south Australia. The project area with WISCO is located on South Australia's Eyre Peninsula and is believed to have deposits of 2.282 billion tons of iron ore.
With an average annual production of 30 million tons, WISCO ranks seventh among steel makers in the world on a production scale. However, WISCO receives 80 percent of its iron ore from overseas and is facing a survival crisis caused by the spike in iron ore prices on the international market.
Source: Xinhua