He might have directed several blockbusters, but none of them was as demanding as producing the opening and closing ceremonies for the Beijing Olympics and Paralympics, movie director Zhang Yimou said earlier this week.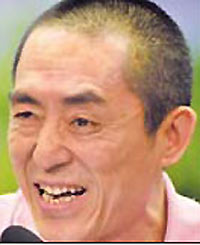 Zhang Yimou, director for the opening and closing ceremonies of the Beijing Olympics and Paralympics, is seen in this undated file photo. [Xinhua]
"I have never used so many people or gone to so much trouble when making a film," the 57-year-old told the Xinhua News Agency ahead of Wednesday's closing ceremony for the Paralympic Games at the Bird's Nest.
"The ceremonies are grand cultural events, and entail a daunting amount of coordination with other artists, technicians and officials," he said.
"It was very time- and energy-consuming, but a rare and rewarding experience."
He is now looking forward to a good rest, he said.
Among Zhang's collaborators on the four performances were Zhang Jigang, choreographer of the Thousand-hand Bodhisattva Dance, and fireworks expert Cai Guoqiang.
The team spent years developing, designing and perfecting their performances, Zhang Yimou said.
"People want to see something they've never seen before, so it was extremely challenging.
"The use of water at the Athens Olympic opening ceremony, for instance, was a brilliant stunt, and that put us under pressure to be equally stunning," he said.
Related readings:


 Olympic ceremonies 'huge task": director Zhang


 Zhang Yimou not on audience awards shortlist


 Zhang:'No to London Games'

The team spent many long nights discussing and arguing over which of the myriad sporting and cultural elements to include, Zhang said.
The end results were worth the effort, though, Zhang said.
Elements such as the drumbeat countdown to the opening of the Olympics and the jade plate at the opening of the Paralympics spoke the language of artistic expression, he said.
"We had to abide by certain procedures stipulated by the Games' supervising bodies," he said.
"But we were able to present all the mandatory elements in our own way."
More than 40,000 people participated in the four ceremonies, thousands of costumes were made, and every cosmetician had to make up about 180 performers in just hours, he said.
Through it all, the emphasis was always on producing a quality show, he said.
"Beijing won't host another Paralympics in the near future," Zhang said.
"So we wanted every moment of this one to be memorable.
"Being so involved with one of the world's best sports events was something truly memorable," he said.
"It will influence my life and work in the future."