PARALYMPICS
/
News
---
Paralympic flame to visit Shanghai

Xinhua
Updated: 2008-09-01 11:18
WUHAN-- The Beijing Paralympic flame will continue its China tour in Shanghai on Monday, the third leg of the "Modern China" route after the relay concluded in central China's Wuhan city.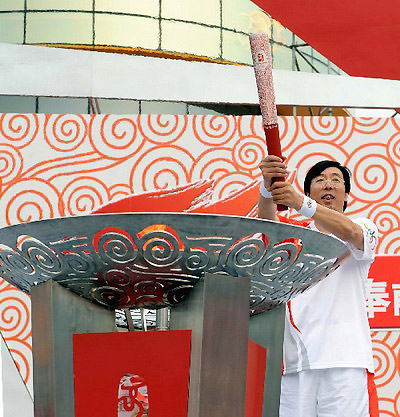 Zhu Jianhua, the retired high jump winner in many international tournaments, poses with the torch after lighting the cauldron. The Paralympic torch relay kicked off in Shanghai on September 1, 2008. [sina.com]
The Shanghai leg will start in the college park of Shanghai Songjiang New Town.
Situated on the bank of the Yangtze River Delta and nicknamed "Paris of the East", Shanghai is considered as one of the most vibrant cities of the world and the most modern city in China.
The well-known booming metropolis city boasts of its modern infrastructure and the progressive outlook.
The Beijing Paralympic torch relay covers 13,181 kilometers in nine days passing 11 cities which are selected from provinces, autonomous regions and municipalities of China.
The relay will be along two routes, namely the route of "modern China" and the route of "ancient China".
The "Modern China" route running through Shenzhen, Wuhan, Shanghai, Qingdao and Dalian will showcase the country's achievements in its modernization drive in recent decades.
The quadrennial Paralympic Games made its debut in Rome in 1960 and have been successfully held for 12 times.