WUHAN, Central China -- The Paralympic torch relay continued its journey in Wuhan on Sunday as the second leg of the "Modern China" route.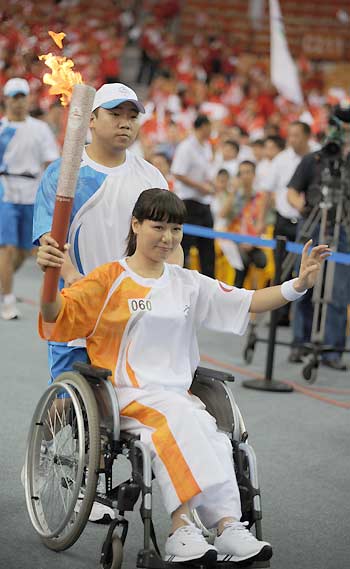 Wen Qing, a decorated wheelchair racing athlete, holds the torch during her leg of Paralympic torch relay in Wuhan, central China's Hubei province August 31,2008. [Xinhua]
The opening ceremony started at about 8 a.m. at Wuhan Sports Center. Sixty torchbearers, including 11 disabled, ran in the three-kilometer-long relay.
The first runner, Cheng Yu, is a disabled former athlete from national team. She is the champion of women's team table tennis in Seoul 1988 Paralympic Games.
The torch was passed on in Wuhan economic and technological development zone, of which rapid economic growth has surpassed thirty percent in recent five years.
The cauldron was set ablaze in warm cheers by the final carrier Wen Qing, who was crowned as the "wheelchair princess" and won more than 50 medals on wheelchair racing in the worldwide games for handicapped during past 15 years.
This relay also became a grandfestival of 438,000 disabled of the city. Splendid shows were later performed by the disabled, including the famous Chinese conductor Zhou Zhou, to display their consistent spirit and optimistic attitude on life.
More than 2,400 disabled were also invited to enjoy the performance and share the happiness of sacred flame relay. "The torch relay makes me feel the joys of festival," a disabled audience said.
To ensure the disabled fully enjoy the relay, the government has recruited more than 200 volunteers to provide them better services, such as accompanying the torchbearers to pass on the torch, serving all coming disabled food and water, and providing more convenient equipment.
With a population of more than eight million, Wuhan serves as the gateway to China's hinterlands in central China's Hubei province. As its outstanding geographic advantage, it is also nicknamed the "thoroughfare to nine provinces".
Yangtze and its biggest tributary Hanjiang River meet downtown Wuhan and cut the city into three parts of Wuchang, Hankou and Hanyang.
With great economic development results in recent years, the city has become one of the new batch of economic reform experiment zones in China.
The Beijing Paralympic torch relay will cover 13,181 kilometers in nine days passing eleven torch relay cities which are selected from provinces, autonomous regions and municipalities of China.
The Paralympic torch relay was carried out along two routes, namely the route of "modern China" and the route of "ancient China".  "Modern" route covers Shenzhen, Wuhan, Shanghai, Qingdao, Dalian and Beijing, the "ancient" has Xi'an, Hohhot, Changsha, Nanjing and Luoyang.