Jingpo Lake is the largest volcanic mountain lake in China and the second largest in the world. A lot of people visit the Jingpo Lake scenic area during the summer and autumn, but in fact, winter tourism at Jingpo Lake is very distinctive. The Diaoshuilou ice that falls here is especially famous, and the world cliff diving performance by the Di Huanran is also unique and unparalleled in the world. In addition, winter fishing on the Jingpo Lake is quite spectacularand unique. At the same time, there are a variety of winter recreational activities for people to enjoy the winter wonderland.
Jingpo Lake is one of the furthest north of the freshwater lakes of China, which begin to freeze from late November and whose ice can reach 70 cm in thickness. The basic procedure of ice fishing is: first, put the net on the ice, the experienced fisher man will select the location and drill a hole into the ice according to the color of the ice, mesh through the net cable under the ice, and then gradually pull it up, finally pulling the fishing net out of the ice in the net port.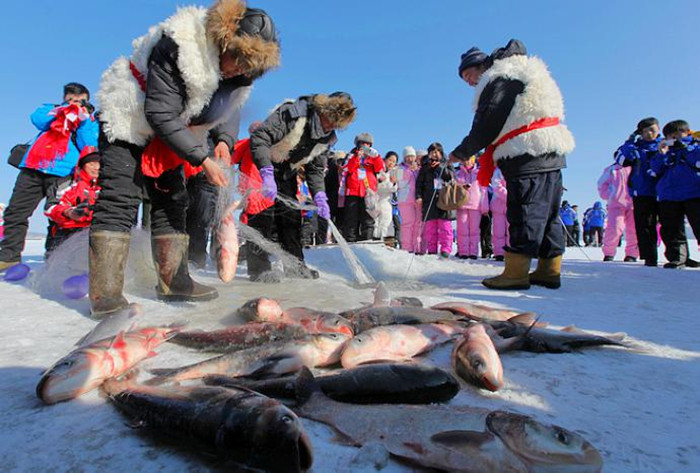 Small mesh fishing is a daily activity on Jingpo Lake.