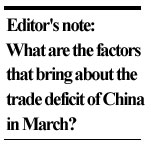 The rare monthly trade deficit China registered last month is unlikely to reverse the considerably long-term trend of it being a trade surplus country.
Yet, while playing down the shock of the first trade deficit in the past 70 months, policymakers need to prepare for a long-term change in the country's trade balance as domestic consumption gradually develops into a leading engine of growth.
Statistics from the General Administration of Customs confirmed early reports that China's trade balance turned red in March, resulting in a trade deficit of $7.2 billion.
This is certainly a surprise to many people who have assumed that China's large volume of processing trade will guarantee its status as a trade surplus country.
Related readings:


 China records trade deficit


 Dialogues, contacts critical to trade dispute settlement


 China reports trade deficit in March, 1st time in 6 years
It is easy to attribute the March deficit to seasonal factors like Spring Festival in February, when many Chinese exporters were prompted to front-load production and shipments. After all, China's imports and exports rose 44.1 percent to $618 billion and still posted a trade surplus of $14.5 billion in the first quarter.
But a close look at trade figures shows the latest gap was mostly due to strong imports of oil, raw materials and automobiles.
If increased imports of oil and raw materials may still be related to the country's exports via processing trade, the surge in imports of automobiles is purely driven by domestic demand. China's imports of cars in March rose by 240 percent over the same period last year and by 159 percent in the first three months.
Such domestic-consumption-led imports growth indicates that China may be shifting more rapidly than expected from its dependence on investment and export for growth. If that is the case, policymakers should not take this monthly trade deficit merely as a short-lived phenomenon.
(China Daily 04/12/2010 page9)