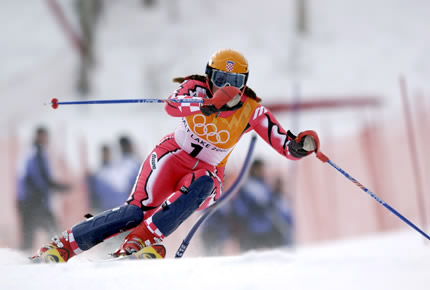 Janica KOSTELIC of Croatia in action in the slalom event of the women's alpine combination during the Salt Lake City Olympic Winter Games. Credit : Getty Images/Shaun Botterill
Born: 5 January 1982
Birthplace: Zagreb
Nationality: Croatia
Sport: Skiing
ATTENDANCE AT THE OLYMPIC GAMES
Nagano 1998
Salt Lake City 2002
Turin 2006
AWARDS
Olympic medals:
Gold: 4
Silver: 2
Other results:
World Championships
Gold: 2 (03)
The Snow Queen of Croatia
While traveling on the junior ski circuit in Europe, Janica Kostelic and her family did not have enough money to stay in hotels, so they slept in tents and in their car. Kostelic competed at the 1998 Nagano Olympics when she was only 16 years old, but her real breakthrough did not take place until the 2000-2001 season, when she won the overall World Cup title.
Back home in Zagreb, she was presented with a bouquet of 1,256 roses -the number of points she earned that season. Her nation also honoured her by making her the first athlete to appear on a Croatian postage stamp. During the Salt Lake City Olympics, Kostelic had a spectacular ten days. She began by recording the fastest time in each of the three runs of the combined event, winning by almost 1½ seconds.
Next she finished second in the super-G, missing a gold medal by only five hundredths of a second. Three days later, she edged Laure Pequegnot by seven hundredths of a second to win the slalom. Finally, she led both runs of the giant slalom to earn her third gold medal and her fourth total medal.
At the Turin 2006 Games, Janica didn't disappoint those who counted her among the favourites. She was Olympic champion in the Alpine combined, and took the silver medal in the super G. With four gold medals and two silver, she holds the record for medals obtained by a woman in Alpine skiing.