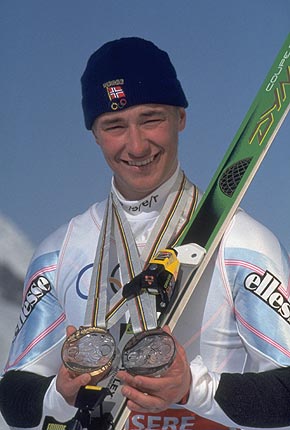 Albertville, 16 February 1992. XVI Olympic Winter Games: Kjetil Andre AAMODT from Norway with his medals in Val d'Isère. Credit: Getty Images/Vandystadt
Other names: AAMODT, Kjetil André
Born: 2 September 1971
Birthplace: Oslo (Norway)
Nationality: Norway
Sport: Skiing
Attendance at the Olympic Games
Albertville 1992
Lillehammer 1994
Nagano 1998
Salt Lake City 2002
Turin 2006
Awards
Olympic medals:
Gold: 4
Silver: 2
Bronze: 2
Other results:
World Championships
Gold: 5 (93, 97, 99, 01)
Silver: 4 (91, 93, 01, 03)
Bronze: 3 (96, 99, 03)
Three months before the Albertville Olympics, Kjetil André Aamodt was hospitalised with mononucleosis. He was so ill that he lost 11kg and had to be drip-fed. Remarkably, he returned to training two months later, and six weeks after that he won the super G to become Norway's first Olympic Alpine medalist in 40 years. He also won a bronze medal in the giant slalom.
At the 1994 Lillehammer Games, Aamodt earned silver medals in the downhill and the combined and a bronze in the super G.
At the Salt Lake City Games in 2002, Kjetil André Aamodt won two gold medals, one in the Super G and the other in Alpine combined.
He became the first Alpine skier in Olympic history to win seven career medals. Fourteen years after his title at the Albertville Games, Aamodt was still going strong in Turin in 2006, where he won the gold medal in the super G event. With eight medals, he is the athlete with the most Olympic titles in Alpine skiing.