East Chinese city builds mansion in Xinjiang
By Li Xiaoxu ( chinadaily.com.cn )
Updated: 2015-10-14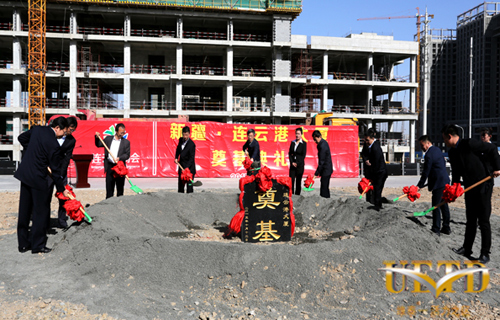 Urumqi officials attend the foundation-laying ceremony in Economic and Technological Development Zone.[Photo/uetd.gov.cn]
Urumqi's Economic and Technological Development Zone, in the Xinjiang Uygur autonomous region, held a groundbreaking ceremony for Lianyungang mansion on Oct 12. The mansion will help companies from coastal Lianyungang, East China, settle in Xinjiang, according to a local official.
The mansion is expected to be completed by the end of 2017, covering one hectare of land with 408 million yuan ($64.38 million) of investment, said An Shuqing, president of the Xinjiang Lianyungang Silk Road Real Estate Development Co.
An added that the 100-meter building will have 22 floors, and contain restaurants, hotels and offices. Lianyungang local products such as crystal and marine food will also be found there.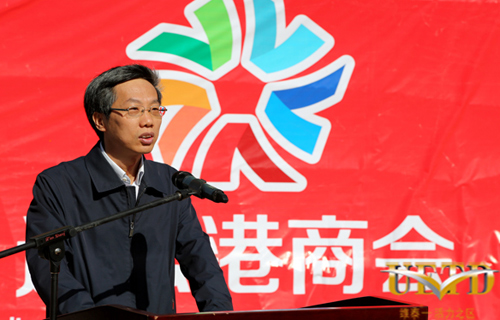 Chen Chunping, vice Party chief of Urumqi, delivers a speech at the groundbreaking ceremony on Oct 12.[Photo/uetd.gov.cn]
"The mansion will enhance cooperation in logistics, trade, technology and agriculture by attracting enterprises from Lianyungang", said Chen Chunping, the vice Party chief of Urumqi.
Lianyungang and Urumqi are two "bridgeheads" along the Silk Road Economic Belt due to their geographical location. Lianyungang is a harbor facing the Yellow Sea in Jiangsu province, and Urumqi is an important inland economic hub connecting China with Central Asia.
The two cities developed sister city relations in 2008. In 2013, both sides signed agreements on cooperating in key fields, such as modern logistics.
Edited by Andrew Ancheta