Bankers to step up shared Belt and Road financing
( China Daily Europe )
Updated: 2017-05-19
Banks from emerging economies are boosting their presence in infrastructure activities under the Belt and Road Initiative, with bankers vowing to seek closer partnerships for project financing on May 15.
Halil Aydogan, general manager of Turkey's Vakifbank, says there is demand for more than $40 billion (36.4 billion euros; £31 billion) of investment in transportation infrastructure in Turkey, and the bank is seeking to expand partnerships with Chinese lenders to fund major projects.
"For many years, European banks were very active in Turkey. Now we see banks from China joining in as they see big value and potential for banking in Turkey," Aydogan says on the sidelines of a roundtable meeting of bankers at the Belt and Road Forum for International Cooperation in Beijing.
The Turkish bank has obtained $250 million in loans from Industrial and Commercial Bank of China, the world's biggest bank by assets, Aydogan says, adding that a memorandum of understanding has been signed with ICBC to further develop cooperation in other banking areas, ranging from treasury transactions to renminbi payments.
The Turkish banker acknowledges the positive role of the Belt and Road Initiative, proposed by President Xi Jinping in 2013, in improving global trade and promoting shared benefits.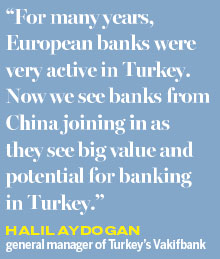 "The initiative has a mission that aims to increase the level of global trade. It supports a win-win outcome for countries and regions, as opposed to the zero-sum game of protectionist policies," he says.
Similarly, Pakistan's largest bank, Habib Bank, has been working with multiple Chinese lenders - including China Development Bank, ICBC and Bank of China - on four electrical power-related projects in Pakistan with a total investment value of $5 billion, says Nauman K. Dar, the bank's president.
"We should make an effort to utilize local currency and develop the local capital market, because there are huge untapped resources in Pakistan," Dar says.
The bank opened a branch in March in the Xinjiang Uygur autonomous region's capital, Urumqi, to provide financial services for China-Pakistan Economic Corridor projects, which are part of the Belt and Road Initiative.
The roundtable of bankers on May 15 was hosted by ICBC, which is taking the lead in forming a long-term interbank cooperation mechanism to ensure sustainable financing and proper risk management for projects under the initiative.
lixiang@chinadaily.com.cn
(China Daily European Weekly 05/19/2017 page9)