Home
> Urumqi High-tech Industrial Zone
NDRC investigates energy saving in Xinjiang
( chinadaily.com.cn )
Updated: 2015-05-19
Xinte Energy Company in Urumqi city, Xinjiang Uygur autonomous region, received a delegation from the National Development and Reform Commission on May 8. The group came to investigate the company's work on energy saving.
Visitors first learned about the origins of Xinte Energy Company, which was founded in the Urumqi State High-tech Industrial in 2008. It specializes in the production and sales of polycrystalline silicon materials and has an annual output of 150,000 tons, making it the second largest producer of polycrystalline silicon materials in China.
The delegates also visited the company's exhibition hall where they spoke highly of its level of technology and innovation.
A meeting about the company's energy saving work was also held. Company representatives detailed their investments into improving the performance of their products. The meeting was followed by a sample test of energy saving materials and an investigation to the energy saving equipment.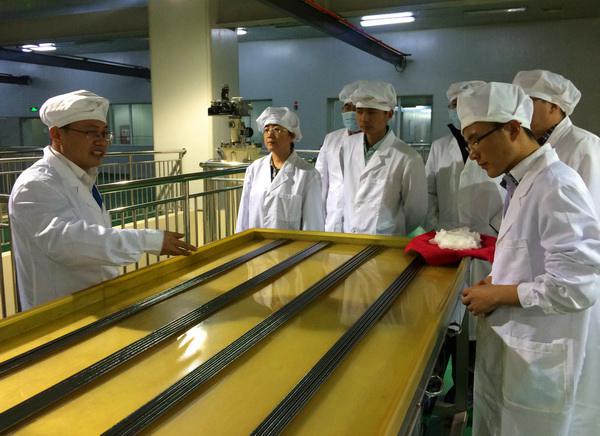 A delegation from the National Development and Reform investigates energy saving materials at the Xinte Entergy Company in Urumqi State High-tech Industrial in the Xinjiang Uygur autonomous region, on May 8. [Photo/udz.gov.cn]
By Yang Fan and edited by Jacob Hooson