You Are Here  :  
Home
 > 
Figures and Data
Foreign Direct Investment
(xmtdc.gov.cn), Updated: 2018-09-03
A total of 1,145 foreign invested enterprises were newly set up in 2017. The contractual foreign capital was 32.81 billion yuan ($5.22 billion) while paid-up foreign capital was 16.01 billion yuan, growing by 11.1 percent. As of the end of 2017, Xiamen had approved foreign investors to invest a total of 13,603 projects in the city, with a contractual capital of 32.81 billion yuan and an actual utilized capital of 16.01 billion yuan.
Xiamen maintained the top position within Fujian province in terms of FDI. Its contractual foreign capital accounted for 32.5 percent of the provincial total while its utilized foreign capital accounted for 29.7 percent of the provincial total. The tertiary and secondary industries respectively absorbed 68.4 percent and 31.5 percent of the committed FDI, which is a more optimized structure.
Actual Input of Foreign Capital by Industries in Year 2013 to 2017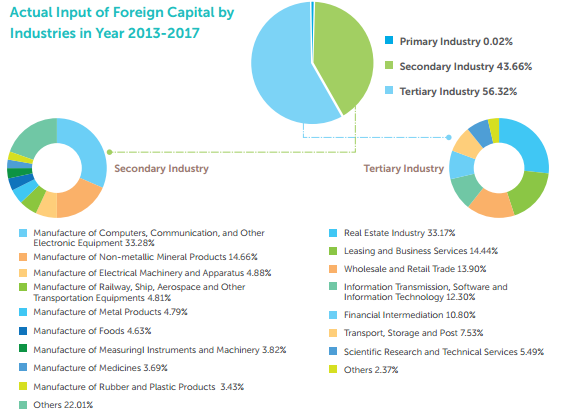 Top 10 Sources of Investment