Introduction of Tai'an
(chinadaily.com.cn)
Tai'an is located at the southern foot of Mount Tai (35°38'~36°28'N and 116°20'~117°59'E). It borders Jinan, the capital of Shandong province in the north; Qufu, the birthplace of Confucius in the south; Zibo, Laiwu and Linyi three cities of Shandong, and Yellow River in the west. Tai'an administers two districts (Taishan district and Daiyue district), two county-level cities (Xintai city and Feicheng city) and two counties (Ningyang county and Dongping county), covering an area of 7,762 square kilometers with a permanent resident population of 5.65 million people.  

Donghu Park (by Sun Kai)
Situated in the continental half-moist monsoon climate district of the Temperate Zone, Tai'an enjoys a pleasant climate with an annual average temperature of 13℃ (26.4℃ in July and -2.6℃ in January) and an annual average precipitation of 697mm. The altitude of Mount Tai within the jurisdiction of Tai'an is 1,545 meters; hence the area is also characteristic of mountain climate. The temperature on the top of the mountain is permanently 7~8℃ lower than at the foot. The annual average precipitation on Mount Tai is 1106mm.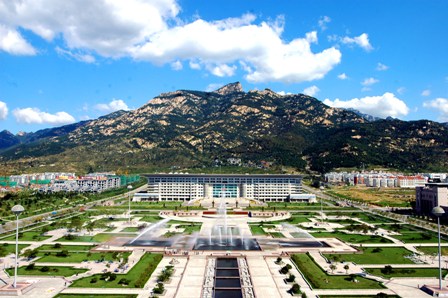 Tai'an People Government (by Zhou Changzheng)
Tai'an is the place of origin for Chinese civilization. The existence and development of human beings dates back to more than 500,000 years ago. People in Xintai have entered into the stage of Homo sapiens 50,000 years ago. The brilliant Dawenkou Culture germinating in this area 5000 years ago is a significant landmark in the history of Chinese civilization.
For the primitive worship of the sun and great mountains, Mount Tai is a holy mountain for emperors in all dynasties to hold worship ceremonies and offer sacrifice to Heaven. Enshrined by such worship ceremonies, Mount Tai has attracted believers of both Confucianism and Taoism, men of letters and celebrities whose residence and tour left numerous places of interest behind. The name Tai'an is derived from Mount Tai and the old idiom "The peace of Mount Tai ensures the peace of the whole country", implying that "The country is prosperous and the people live in peace".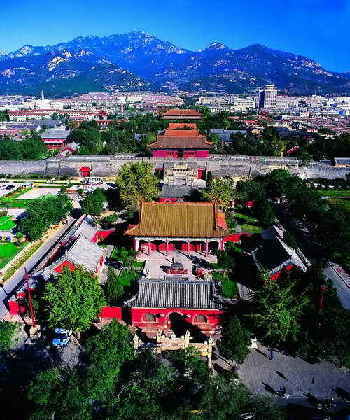 Historic Building - Dai Temple at Mount Tai
Tai'an is blessed with unsurpassed tourist resources. "Chief of the Five Sacred Mountains", Mount Tai is a symbol of the great Chinese national spirit and an epitome of Chinese civilization. Combing magnificent natural views and a long and brilliant history and culture, it has been listed on the list of the world natural and cultural heritage by the United Nations Educational, Scientific and Cultural Organization (UNESCO).
Tai'an is "A National Sanitary City". Built along with Mount Tai, Tai'an has shaped into a harmony of old and new with the combination of ancient natural beauty and modern urban landscape.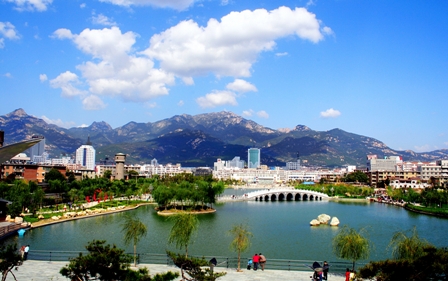 Residential buildings (by Wang Shuyin)
Tai'an is a place of institutions of higher learning and scientific research. There are four universities and colleges famous home and abroad: Shandong Agricultural University, University of Science and Technology of Shandong, Taishan Medical College and Taishan College. There are also three academicians of the Chinese Academy of Science and Chinese Academy of Engineering.
Tai'an is one of the north-south transportation hubs in China. More than 87 trains call at the Tai'an station every day. Beijing-Shanghai Expressway and Beijing-Fuzhou State Highway join up here. West Beijing-Shanghai high-speed railway also stops at Tai'an station.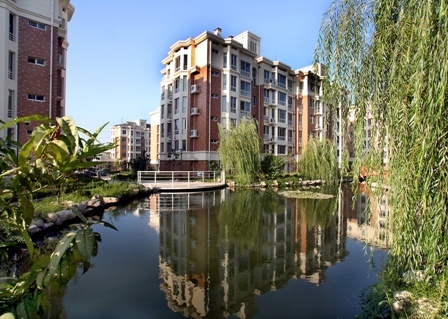 Residential buildings (by Zhang Rendong)
Tai'an is the key producer of plaster, sulphurite and granite, with the most amount of plaster designer. Since there are implications of "as stable as Mount Tai" and "weightier than Mount Tai" in Tai'an granite, it has been employed in many well-known Chinese buildings like Great Hall of the People, Tian'anmen Square and Monument to the People's Heroes at Tian'anmen Square.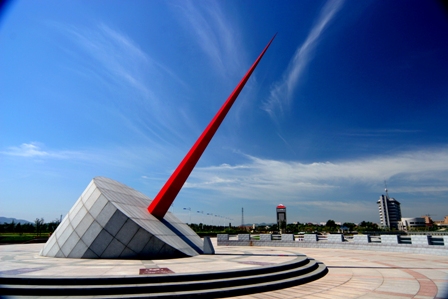 Solarium (by Zhou Gang)
Tai'an has traditional advantage in mechanical and electrical products, textile, chemical industry, building materials, coal, electricity and food industry. Products with high market share include crosslinked cable, diesel engine, weighing apparatus, hemp textile, fibre glass, thistle board and Taishan Tequ wines. Four stocks including Taishan Petroleum, Taishan Tourism and Lu Run Trading Company have listed on stock markets of Shanghai and Shenzhen. With healthy performance, all of them are blue chip popular in stockholders.
Crape myrtle, a kind of sheepberry is the city flower of Tai'an. There is a hundred-year-old crape myrtle tree in the yard of Arhat Cliff (Luohanya), which is full of antiquity with its trunks curling like dragon horns. From summer to autumn, Crape myrtle trees are in full blossom. Rustling and flickering tenderly in soft breeze, there flame-like flowers are gorgeous and charming to all. In recent years, Tai'an municipal government has planted crape myrtle all around the city.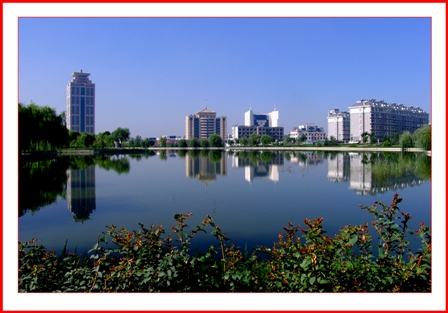 (by Yao Qunsheng)
Sophora japonica Linn, also known as Chinese scholar tree, is the city tree of Tai'an. It is a kind of deciduous trees in the pea family. Sophora japonica Linn is highly adaptive and valued for its longevity and ornamental value. There are 42 more than 100 years old Sophora japonica Linn on Mount Tai, along with the "Tang Chinese Scholar-tree" in Dai Temple and other three ones are the most famous.
China International Mount Tai Climbing Festival in early September has been a new holiday in Tai'an and a golden bridge connecting people in this city and friends from all over the world.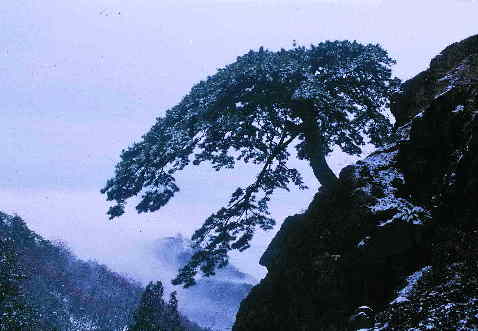 Welcoming Guests (Yingke) Pine
Since the beginning of the Reform and Opening in 1978, Tai'an has fully implemented the economical globalization strategy and paid close attention to the optimization of the investment environment, establishing customhouse, examination and approval center, foreign investment center and other institutions for better service for investors. The improvement in the investment environment has attracted one after another solid investment and advanced technology from home and abroad. Tai'an has set up trade relations with 84 countries and regions, friendly sister cities relationship and friendly co-operative relations with above 30 countries and regions. Since 1987, China International Mount Tai Climbing Festival has become the window of Tai'an open to the outside world.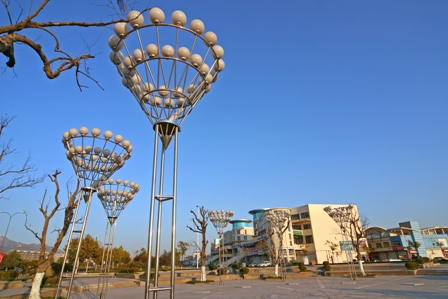 Guangcai Market (by Zhou Gang)
In the first half of 2021, the city's GDP totaled 147.45 billion yuan ($22.82 billion), with a year-on-year growth of 10.7 percent.