Xintai's village develops fungi planting industry
(chinadaily.com.cn) Updated: 2022-05-05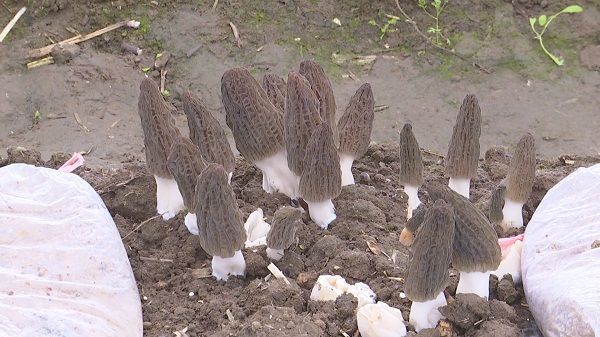 Morchella esculenta, or yellow morals, grow in a greenhouse in Xizhu village, Guli town, Xintai, Tai'an. [Photo provided to chinadaily.com.cn]
Xizhu village in Guli town, Xintai, Tai'an is boosting the planting of morchella esculenta, or the yellow moral, a medicinal fungi, and stropharia rugosoannulata, commonly known as the wine cap mushroom, which are broadening the ways for residents to achieve prosperity.
According to Zhu Xun, Party secretary of Xizhu village in Guli town, both the yellow moral and the wine cap mushroom produce good sales figures.
Every 666.66 square meters yield about 600 kilograms to 750 kg of yellow morals. The current market price is generally around 60 yuan ($9.07) for fresh ones and 550 to 600 yuan for dried ones per 0.5 kg.
Every 666.66 sq m yields about 3 tons of wine cap mushrooms, which generates about 10,000 to 20,000 yuan in net income.
In addition, the growth of the yellow moral and wine cap mushroom industry in Xizhu village has created plenty of job opportunities for farmers in the surrounding areas.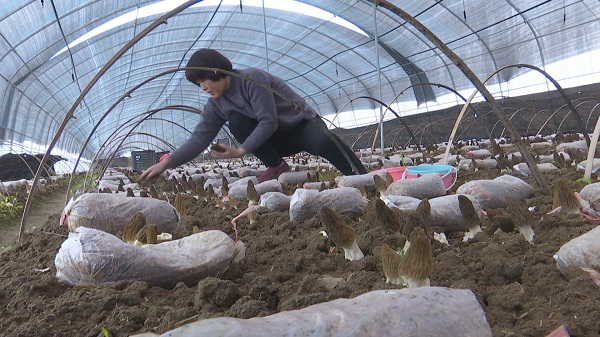 A farmer harvests yellow morals in a greenhouse in Xizhu village, Guli town, Xintai, Tai'an. [Photo provided to chinadaily.com.cn]