Tai'an launches road-railway-waterway intermodal logistics park
(chinadaily.com.cn) Updated: 2022-03-03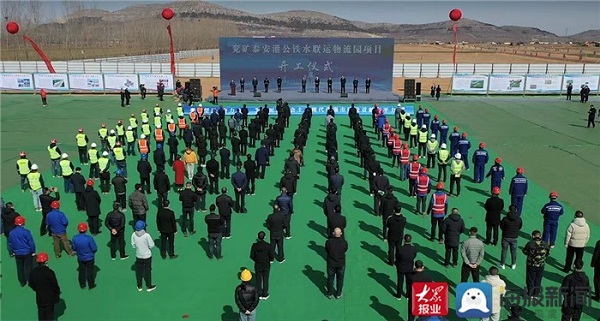 The launch ceremony of the road-railway-waterway intermodal logistics park project in Dongping county, Tai'an, Shandong province. [Photo/dzwww.com]
A road-railway-waterway intermodal logistics park project was officially launched in Dongping county, Tai'an in Shandong province on March 1.
The 94.16-hectare logistics park will be created with a 2.38 billion yuan ($376.64 million) investment and will include a 23.4-kilometer reserved railway, 500,000-ton coal storage facilities, and five 1,000-ton wharf berths.
After completion, the logistics park's annual volume of transshipment cargo is expected to reach 16.2 million tons.
The project can help recognize market linking and resource sharing in Shanxi, Shaanxi, and Shandong provinces, as well as the Inner Mongolia Autonomous Region, with efficient docking and transportation via highways, railways, and waterways, based on the Watang-Rizhao Railway, Beijing-Hangzhou Canal, and surrounding expressways and national highways.
The project also intends to minimize land transport congestion and logistical costs while improving efficiency and promoting green and low-carbon transportation development.