Mount Tai Donkey Oil Shaobing
(chinadaily.com.cn)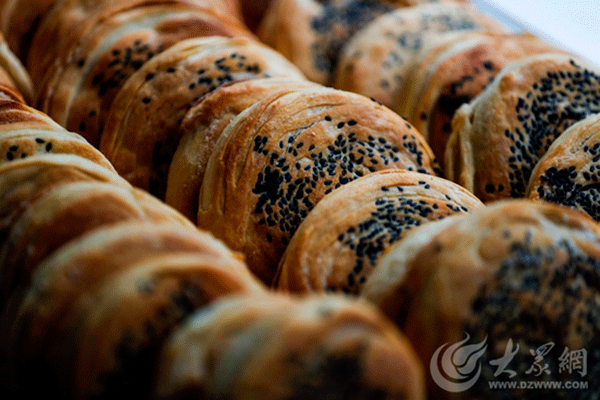 The Mount Tai Donkey Oil Shaobing. [Photo/dzwww.com]
Mount Tai Donkey Oil Shaobing refers to a famous traditional delicacy of Tai'an which involves dough used to make shaobing, a kind of roasted and traditional flatbread, is added seasonings, such as donkey oil, sesame, sesame oil, fennel powder and chili powder, and then roasted.
It is said that this delicacy has a history of more than 2,000 years, dating back to the reign of Emperor Wu of the Han Dynasty (206 BC- AD 220). When Emperor Wu held his worship ceremony at Mount Tai, his cook added the local seasonings to the dough and roasted it instead of steaming. The finished food, soft inside with a crispy edge, was so delicious that it achieved high praise from Emperor Wu and gradually became a local famous cuisine.
The donkey oil shaobing is different from the donkey burger that is chopped or shredded donkey meat or offal placed within shaobing, and is eaten as a snack or as part of a meal.
It was listed as a Shandong provincial cultural heritage in 2011.