Mount Tai Worship Ceremony
(chinadaily.com.cn) Updated: 2018-11-19
Mount Tai, a mountain of great natural, cultural and historical significance and covering a forest land area of some 9,490 hectares, is one of the Five Great Mountains of China, located north of the city of Tai'an. The tallest peak of the mountain is the Jade Emperor Peak rising 1,545 meters above the surrounding plateau.
For the primitive worship of the sun and great mountains, Mount Tai has served as one of the most important ceremonial centers of China since ancient times, with emperors in all the dynasties holding worship ceremonies and offering sacrifices to Heaven.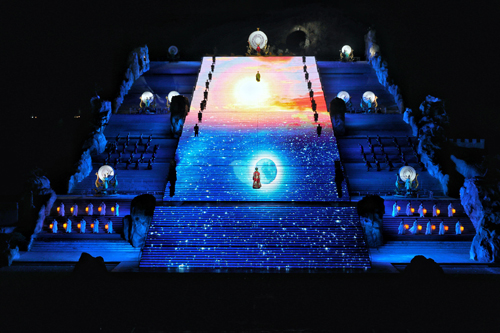 One scene of the Mount Tai Worship Ceremony performance. [Photo provided to chinadaily.com.cn]
The Mount Tai Worship Ceremony is an outdoor show with mountains and rivers as the backdrop. It reproduces the scenes of worship ceremonies held by Emperor Qin Shihuang (259-210 BC), Emperor Wu of the Han Dynasty (206 BC-AD 24), Emperor Gaozong (649-683) and Empress Wu Zetian (690-705) of the Tang Dynasty, and emperors of the Song (960-1279) and Qing (1644-1911) dynasties.
Centering on the splendid culture and historical stories of the worship ceremonies and Mount Tai, the performance can be divided into seven parts including the preface, worship ceremonies of the five dynasties, and epilogue.
With a total investment of 300 million yuan ($43.48 million), it was created by Mei Shuaiyuan, director and producer known for shows that use real scenery in open-air performances with hundreds of performers to display local culture and traditions, and was performed for the first time in April 2010.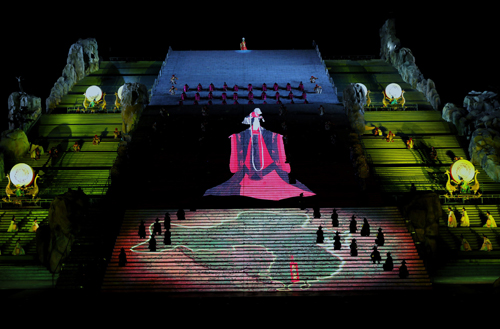 One scene of the Mount Tai Worship Ceremony performance. [Photo provided to chinadaily.com.cn]
The performance venue, established on the foot of Mount Tai, covers a total area of 8,600 square meters, composed of the 5,300-sq-m stage and the 3,300-sq-m audience area. The highest point of the stage reaches 27 meters above the ground while that of the audience area is 16.5 meters, making a V-shaped venue.
The stage was one of the venues of the Central China Television's 2018 Spring Festival Gala, China's most popular TV program in celebration of Chinese New Year's Eve on Feb 15.
The performance has been a driving force to promote the culture of Mount Tai and the development of Tai'an's tourism.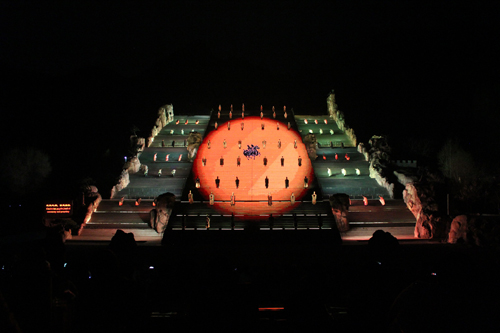 One scene of the Mount Tai Worship Ceremony performance. [Photo provided to chinadaily.com.cn]