Specialized robot production base settles in Tai'an
(chinadaily.com.cn) Updated: 2018-10-18
The specialized robot production base of CITIC Heavy Industries Co's holding subsidiary Kaicheng Intelligence Co recently went into operation in Dongping, a county-level city of Tai'an, East China's Shandong province.
The settlement of the production base in Tai'an is hoped to help upgrade the fire-fighting equipment and improve the emergency rescue capabilities of Shandong province, as well as to promote the development of the area's intelligent manufacturing industries and accelerate its conversion of new and old kinetic energy.
The base, covering an area of 208 mu (13.87 hectares), has a total investment of 580 million yuan ($84.06 million), which is set to be a comprehensive robot industrial base for both production and research, and be home to the provincial-level and national-level specialized robot laboratories. It is expected that the yearly production of various kinds of robots of the base will reach 2,000 in 2019, with a total output value of 2 billion yuan.
Kaicheng Intelligence Co, founded in Hebei province in 1991, is a leading intelligent equipment manufacturing enterprise in China, especially for specialized robot manufacturing. It now has more than 30 varieties of specialized robots, which are widely applied in the fields of firefighting, emergency rescue, counterterrorism, military projects, mining, petroleum and petrochemical to ensure the safety of the general public.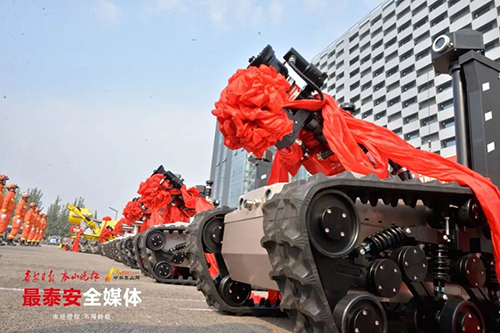 The specialized robots for firefighting and emergency rescue produced by the specialized robot production base of Kaicheng Intelligence Co are transferred to the Tai'an government in Dongping, a county-level city of Tai'an, Shandong province. [Photo/my0538.com]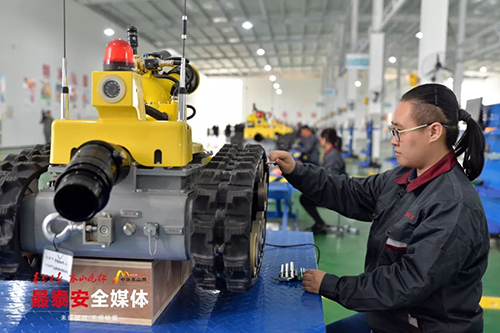 The worker produces the specialized robot at the production base of Kaicheng Intelligence Co in Dongping. [Photo/my0538.com]