Guotai: a pioneering fire-fighting equipment company in Tai'an
(chinadaily.com.cn) Updated: 2018-09-21
Tai'an, East China's Shandong province has been promoting its conversion of new and old kinetic energy in recent years with a series of innovation-driven measures.
Guotai Technology Co Ltd, with a registered capital of 114.92 million yuan ($16.66 million), is one of the high-tech enterprises in Tai'an that has benefited from the measures. It is included in the Shandong provincial new and old kinetic energy conversion project database, with its benefits including being given priority when applying for financial support and funds.
As a company specializing in the research and development, manufacturing, sale, and design of fire-fighting products, Guotai has been pioneering with the continuous innovations of its products in recent years by cooperating with the Chinese Academy of Engineering, the University of Science and Technology of China, the Beijing Institute of Technology, and the Shanghai Fire Research Institute of Ministry of Public Security.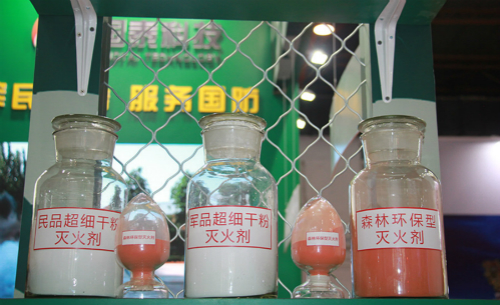 The superfine dry power, a core product developed by Guotai can be used alone and can be also mixed up with water for fire fighting, which has a better flame retardance and efficiency of fire suppression. [Photo provided to chinadaily.com.cn]
It has developed dozens of pieces of patented fire-fighting equipment, including a series of automatic fire extinguishing devices, and the fire extinguishing robot, which won the gold medal at the 45th Geneva International Exhibition of Inventions held in 2017, and the first prize for scientific and technological innovation by the China Fire Protection Association in 2017.