Tourism aerophotography contest held in Tai'an
(chinadaily.com.cn) Updated: 2018-09-13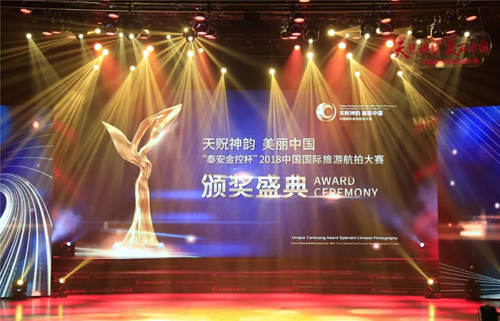 The award ceremony of the fourth China International Tourism Aerophotography Contest takes place in Tai'an, Shandong province on Sept 8. [Photo/WeChat account: SDTXTA]
The China International Tourism Aerophotography Contest took place in Tai'an, East China's Shandong province on Sept 3, with winners being feted at an awards ceremony on Sept 8.
As an important part of the 2018 Mount Tai Climbing Festival held on Sept 6-12, the contest celebrates its fourth anniversary this year and has been a platform to exhibit and publicize Tai'an, while enhancing its tourism image and international influence.
Jointly organized by the Shandong Tourism Development Commission and the Tai'an government, the contest invited five experts to be the judges to ensure its fairness and professionalization, including Hou Heliang, honorary president of Shandong Photographers Association, Liu Weixu, art director of China Radio International, and Guan Jia'er, aerial photographer of the BBC documentary Wild China.
The contest attracted submissions from domestic and overseas aerial photography enthusiasts, such as the K3RK team from Russia, whose works have been shown at the Louvre Museum in Paris, France.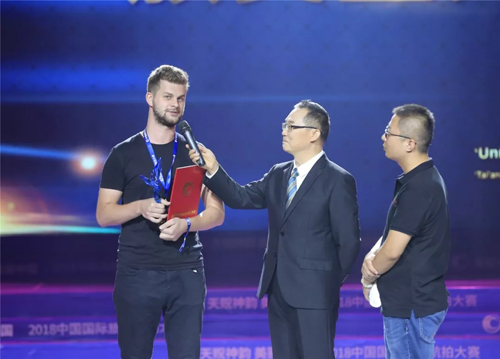 The leader Alexei Colch of the silver award-winning team K3RK from Russia gives his thoughts of winning at the award ceremony of the fourth China International Tourism Aerophotography Contest in Tai'an, Shandong province on Sept 8. [Photo/WeChat account: SDTXTA]
The K3RK team won the silver award in this contest. "I have aerially shot many cities around the world and have also taken part in various aerophotography contests. Tai'an is absolutely a beautiful city. When I first saw Mount Tai, I was impressed by its majesty," said Alexei Colchis, leader of the team.
He also believed that with the participation of more international teams in this contest, more and more people will know about the beauty and charm of China.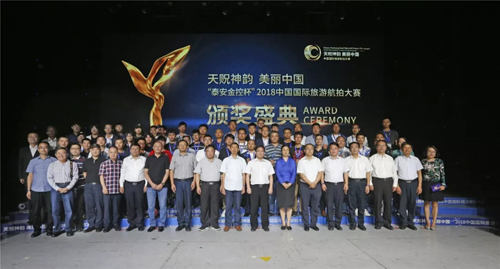 The award winners and the guests pose for a group photo. [Photo/WeChat account: SDTXTA]