Leisure food festival enriches nightlife in Tai'an
(chinadaily.com.cn) Updated: 2018-09-13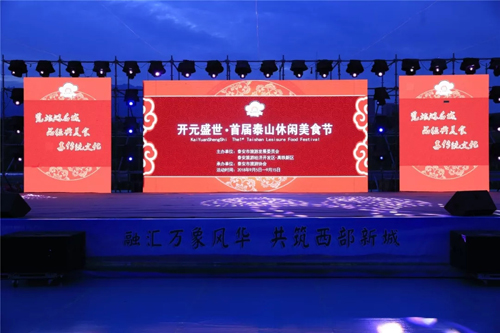 The first leisure food festival is held in Tai'an, East China's Shandong province on Sept 5-15. [Photo/WeChat account: SDTXTA]
The first leisure food festival is being held in Tai'an, East China's Shandong province from Sept 5 to 15, to enrich the nightlife of tourists and local residents.
As an important part of the 2018 Mount Tai Climbing Festival held on Sept 6-12, the food festival also aims to cultivate the new culinary hotspots and improve the level of catering consumption, thus promoting the high-quality development of Tai'an's tourism.
Covering an area of 15,000 square meters, the site of the food festival is divided into seven different functional areas, including the catering consumption area, the food processing area, the beverage area, the wining tasting area, the children's entertainment area, the specialty foods area, and the product exhibition area. It can accommodate 1,200 people having meals at the same time.
The food festival opens from 16:30-24:00 every night. Guests can enjoy on stage art performances at the site at 19:30-20:30, and then a musical fountain show. Activities, such as a cook-off, a food photography competition, and lucky draws are also ongoing for guests to enjoy themselves.
The admission of the festival food is free for tourists and local residents.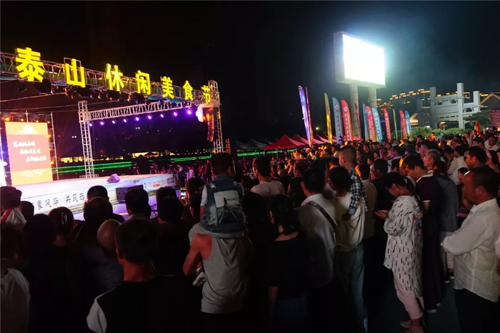 Visitors enjoy the on stage art performances that run every night from 19:30-20:30 during the food festival held in Tai'an, Shandong province on Sept 5-15. [Photo/WeChat account: SDTXTA]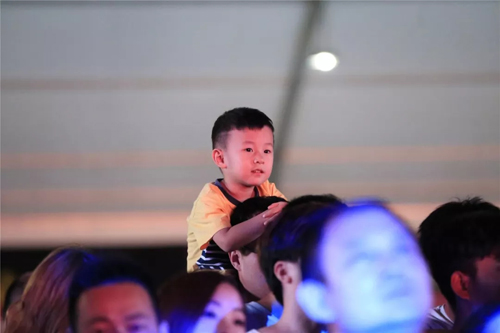 A little boy sits on his dad's shoulders to watch the performance at the site. [Photo/WeChat account: SDTXTA]