Investment fair sees deals worth $24.94b reached
(chinadaily.com.cn) Updated: 2018-09-11
Agreements on projects with an investment totaling 172 billion yuan ($24.94 billion) were reached on the first day of the 2018 Tai'an Fair for Investment and Cooperation, which opened on Sept 6 in Tai'an, Shandong province.
A total of 50 projects were signed at the fair, of which 72 percent were relative to the conversion of new and old kinetic energy.
Agreements on 26 projects, with an investment of 118.27 billion yuan, covered the fields of information technology, high-ended equipment and intelligent manufacturing, new energy and new materials, and energy conservation and environment protection, while 10 others, with an investment of 16.67 billion yuan, were involved in the industries of textiles and garments, logistics, cultural tourism, and modern agriculture.
The new energy industrial base of Shandong Energy Group Co Ltd, the specialized robot production base of CITIC heavy Industries Co Ltd, the Mount Tai Hydrogen Energy Base, and the logistics park of the third-largest e-commerce player in China, Vip.com, will settle in Tai'an in the near future.
Jiang Yong, deputy general manager of Vip.com, said that the logistics park, with an investment of 2 billion yuan, would be the only financial settlement center and logistic base of Vip.com in Shandong province, and would be completed around February next year, with an expected business volume of 5 billion yuan.
More than 840 guests from over 20 countries and regions, including the United States, Germany, Canada, Japan and Singapore, are in attendance at the fair, which has become an important platform to promote the economic cooperation and the cultural exchanges between Tai'an and other countries and regions.
The fair runs until Sept 12.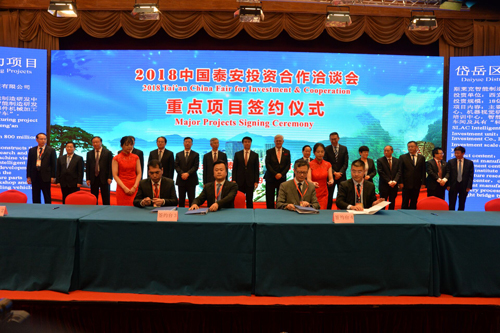 The 2018 Tai'an Fair for Investment and Cooperation opens on Sept 6 in Tai'an, Shandong province. [Photo by Si Gang for chinadaily.com.cn]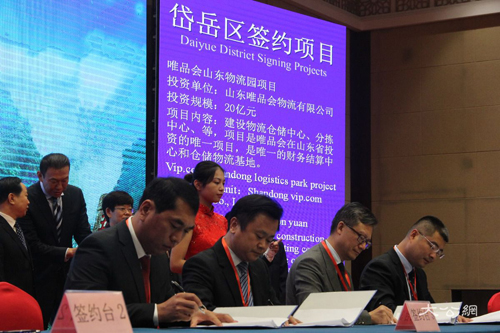 The project of the logistics park of Vip.com is signed at the 2018 Tai'an Fair for Investment and Cooperation held in Tai'an, Shandong province on Sept 6. [Photo by Hu Wolong/takungpao.com]