Medals for 2018 Mount Tai climbing festival unveiled
(chinadaily.com.cn) Updated: 2018-09-10
Designs for the medals for the 2018 International Mount Tai Climbing Festival, which was held in Tai'an, Shandong province on Sept 7, were revealed on Sept 5.
This year's medal is 67 millimeters wide and 90 mm high in the shape of a water droplet, which symbolizes the persistence of water in never giving up when dripping through stones. The patterns of auspicious clouds engraved on the edge of the medal are to wish good luck to the participants.
On one side of the medal is two people carrying a bag on their backs and holding alpenstocks whilst climbing a steep mountain, which is a reflection of the climbers competing in the Mount Tai Climbing Festival. On the reverse is an image of Mount Tai, which is a Unesco World Heritage Site.
"The International Mount Tai Climbing Festival, as a famous national-level climbing competition, has become an important platform to publicize Tai'an and Mount Tai. Therefore, we have added the elements of Mount Tai to the design of the medals in the hope of letting more people know about Mount Tai culture," said one official from the sports bureau of Tai'an.
This year's medals have three categories: gold, silver and bronze, which will be rewarded for the top three of the international groups, the Nantian Gate groups and the Zhongtian Gate groups.
First hosted in September 1987, the Mount Tai Climbing Festival is celebrating its 32nd anniversary this year. It has since become a large-scale tourist event and is very popular throughout China, and helps promote the development of Tai'an's sports, tourism, and cultural industries, as well as its economy.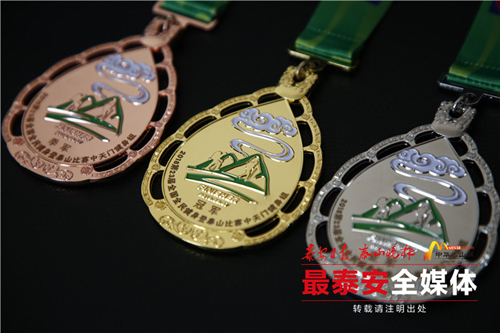 The medals are designed for the 2018 Mount Tai climbing festival held in Tai'an, Shandong province on Sept 7. [Photo/my0538.com]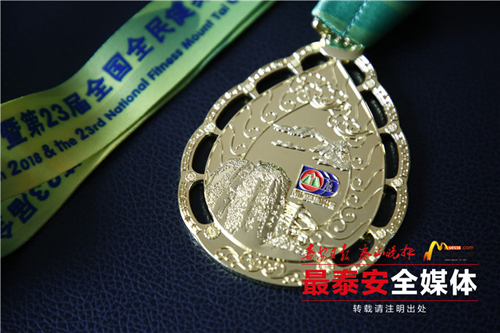 The reverse of a medal for the climbing competition of the 2018 Mount Tai climbing festival held in Tai'an, Shandong province on Sept 7. [Photo/my0538.com]