Annual intl Mount Tai climbing festival to take place in Tai'an
(chinadaily.com.cn) Updated: 2018-08-23
The 2018 International Mount Tai Climbing Festival is set to take place in Tai'an, East China's Shandong province on Sept 7, according to the sports bureau of Tai'an.
First hosted in September 1987, the festival is celebrating its 32th anniversary this year. It has since become a large-scale tourist event and is very popular throughout China, which helps promote the development of Tai'an's sports, tourism, and cultural industries, as well as its economy.
Participants, according to their age, gender and nationality, will be divided into six groups, including the international groups for 18- to 40-year-old men/ women, the Nantian Gate groups for 36- to 50-year-old domestic men/ women, and the Zhongtian Gate groups for over 51-year-old domestic men/ women.
Different groups also have a different climbing distance. The international group has a climbing distance of 8.6 kilometers while the Nantian Gate group has 7.8 km and the Zhongtian Gate group has 5.1 km.
The total amount of bonuses in the competition this year amounts to 610,800 yuan ($88,528). Additionally, if someone from the international groups breaks the record time, they will gain a 10 percent increase of their bonus. The present record for men is 56 min 22 sec, and for women it is 1:08:33.
Registration for this year's competition is now open, with a deadline on Aug 27. Climbing enthusiasts can sign up at official websites, with an entry fee of 60 yuan.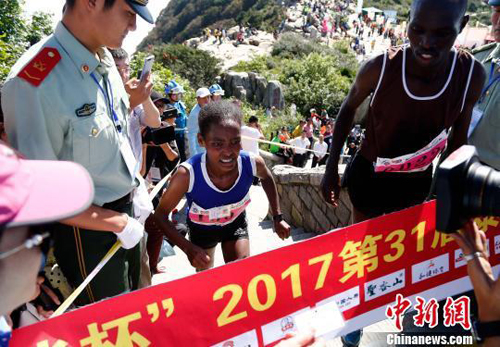 An Ethiopian participant wins the women's international group race of the 2017 International Mount Tai Climbing Festival held in Tai'an, Shandong province on Sept 7. [Photo by Chen Yang/chinanews.com]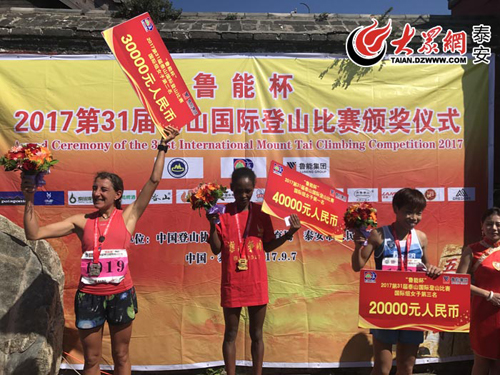 The top three of the women's international group of the 2017 International Mount Tai Climbing Festival pose for a group photo at the award ceremony. [Photo/TAIAN.DZWWW.COM]