Forest oxygen bars in Tai'an
(chinadaily.com.cn) Updated: 2017-12-29
3. Culai Mountain National Forest Park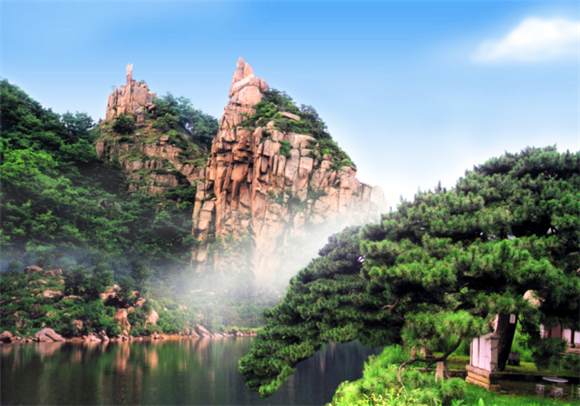 Culai Mountain is a geological park, a national forest park, a national 3A level scenic spot and a natural reserve of Shandong province. [Photo/WeChat account: sdtxta]
Culai Mountain is a geological park, a national forest park, a national 3A level scenic spot and a natural reserve of Shandong province. Along with Mount Tai, they are referred to as the sister mountains. They form a set of natural and cultural landscape as a whole mountain tourism scenic area, but also as a whole set of leisure, tourism, and restoration resort.
Culai Mountain National Forest Park covers an area of 90,000 square meters with the forest coverage rate of 80.2 percent, vegetation coverage rate of 92.4 percent, 99 mountain peaks, and the main peak Taiping top elevation of 1028 meters. There are round ranges of hills and stern cliffs, both deep and melodious Canyons connected to the pond waterfall streams, dotted with reservoir, growing lush green forests, and the sky line buttes, Zixia door caves and shapes, lifelike stone; as many as 797 species of plants, and nearly 800 species of insects.
Culai Mountain is also a great site for flowers. Every March, along the ring road winding drive line, forsythia flowers first reveal their faces, to announce the arrival of spring.