Taoist temples and music on Mount Tai
(chinadaily.com.cn) Updated: 2017-02-10
The Mount Tai Taoist music is an important part of classical Chinese and, throughout history, absorbed the essence of other religious musical forms and the essence of folk music.It has been included in the national intangible cultural heritage list.
The Mount Tai Taoist music consists of vocal sounds and instrumental music with distinctive secular and regional artistic features,rich in religious meaning and classical charm.Vocal sounds are performed in unison or by a soloist during smaller Taoist rites and daily practice.
The instrumental music is often played with gongs, drums, flutes, clappers and traditional stringed woodwind instruments during large-scale and outfield rituals.
Its melody and mysterious aesthetics can help a person cultivate feelings and purify the mind and calm the heart.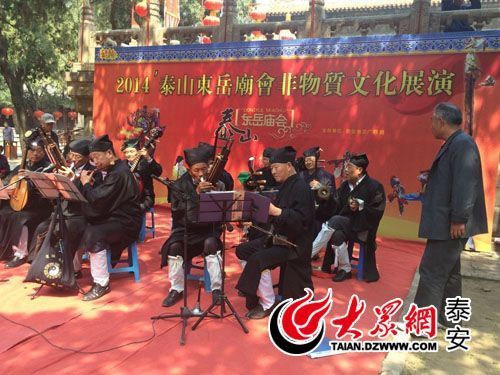 Mount Tai Taoist music is played during an intangible cultural heritage exhibition. [Photo/dzwww.com]