Couples in Shandong preserving puppetry
(chinadaily.com.cn) Updated: 2017-02-03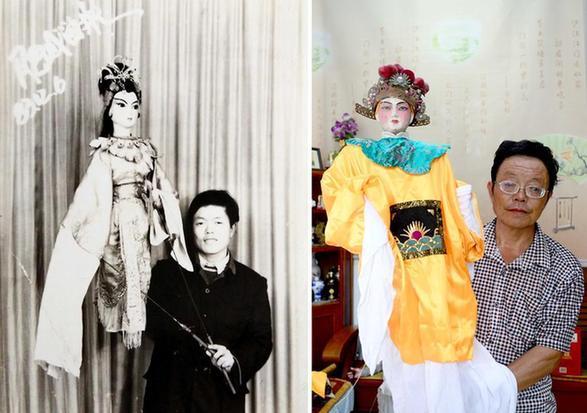 Composite photos of Sun Zhentao holding a puppet in 1983 (L) and in 2014. [Photo/Xinhua]
Puppetry in Ningyang, a county-level city of Tai'an, Shandong province is North China's only existing puppetry and was listed as provincial cultural heritage at the end of 2006.
Sun Zhentao, a sixth generation puppeteer tied the knot with his wife, Han Lanying, using puppetry for their matchmaking.
In 1962, Sun Zhentao's father, uncle and elder brother performed folk art shows in Beijing and were received by Chairman Mao. Now Sun's son and daughter-in-law are also learning the art and have become the 7th generation of Ningyang puppet artists.
Ningyan puppetry involves the use of four levers, so the puppet's ears, tongue, eyes, beard and fingers can all move.