Tourism boost improves village life in Tangfeng
(chinadaily.com.cn) Updated: 2016-07-04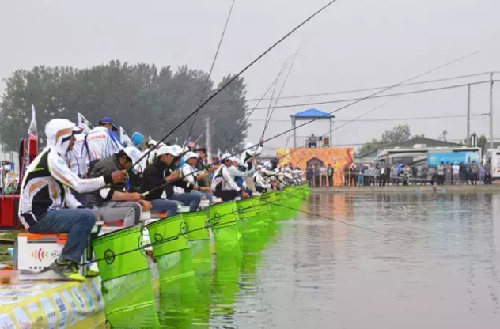 Fishing competitions are held every month at a state-level fishing base near Tangfang village. [Photo/hksdxcy]
The once poverty-stricken village of Tangfang, in Dongping county, Shandong province, has experienced a change in fortunes in recent years thanks to the clever thinking of its Party branch secretary, Zhang Zhiqiang.
A few years back, Tangfang was struggling with poverty, land scarcity and its people leaving to go to the big cities to find employment.
Zhang was forced to take action in order to improve livelihood of the village, and so set out to investigate ways in which the village could be improved.
After much research, Zhang came up with the idea of using the village's geographical position and cultural heritage to its advantage, and building a rural folk tourism resort.
Tangfang is located close to a main highway which links several scenic spots, and is the perfect place for travellers to stop off on their way, and experience the local culture.
After rounds of investigation, Zhang decided to build Tangfang into a folk resort to attract visitors with its featured rural tourism services, including local style cuisines, fruit and vegetable picking as well as fishing.
Visitors to the resort are able to take part in fruit and vegetable picking, sample local delicacies, experience folk activities and even go fishing.
After a few years, Zhang's hardwork has paid off as the living standards of the residents of Tangfeng have improved dramatically, with the annual per capita income for each of the village's 156 households rising to 10,000 yuan ($1,502).