Shandong cultural roadshow hits Bangkok, Thailand
(chinadaily.com.cn) Updated: 2016-03-01
An art troupe from Shandong province visited Bangkok, Thailand on Feb 17, to celebrate Chinese New Year and put Shandong's unique culture on show for locals.
The Shandong Provincial Department of Culture organized various activities, such as acrobatic displays and exhibitions showcasing local specialties including kite-making and intricate paper-cutting from Weifang city.
There were three acrobatic performances in total, two held in the China Cultural Center in Bangkok, and the other set to celebrate the Queen of Thailand's 84th birthday.
In King Rama IX Park, Guo Hongli, a Weifang kite maker held a display to demonstrate the skill of making and flying kites, while Hao Wei, a professional craftsman of Weihai paper-cutting art showed how to delicately cut paper to reveal exquisite detail and narratives.
The displays held in Bangkok are just one stop on a world tour promoting Shandong culture, visiting the likes of New Zealand, France, Belgium and Egypt.
"We've had 12 troupes of 322 performers visit 15 cities in eight countries and regions such as Japan, Egypt and Singapore to participate in activities held to celebrate Chinese New Year," said an official from the Shandong Provincial Department of Culture.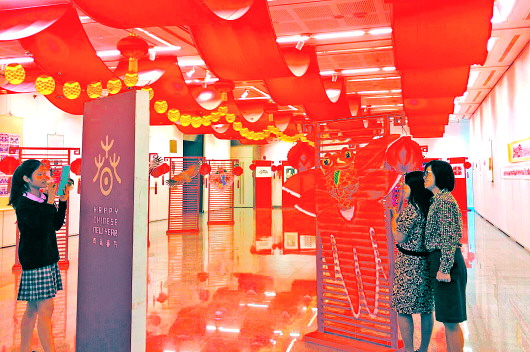 Weifang kites and paper-cutting exhibited in Bangkok, Thailand on Feb 17. [Photo/ sdwht.gov.cn]