Shanxi University's swimmers shine at national games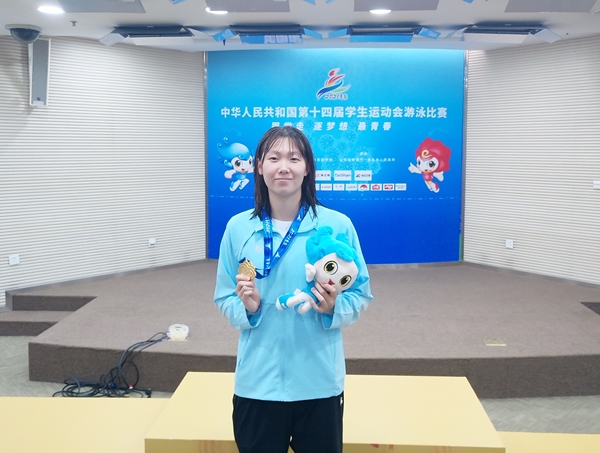 Yang Chang from Shanxi University in North China's Shanxi province wins gold at the 14th National Student Sports Games. [Photo/sxu.edu.cn]
Yang Chang from Shanxi University – located in Taiyuan, capital of North China's Shanxi province – won the 100 meters breaststroke championship in the women's university group B category at the 14th National Student Sports Games on July 12.
The national games, being held in Qingdao city in East China's Shandong province will run to July 17.
Yang, whose major at SXU is sports training, broke the record with a time of 1 min 7.73 sec and won the first gold medal for the Shanxi province's team.
The swimming meet has attracted 384 entries from 24 provinces, municipalities, autonomous regions and the Macao Special Administrative Region.
Shanxi University sent 12 students and two coaches to participate in the swimming competition.
In addition to Yang, other members of Shanxi University's swimming team also achieved good results. The team gained fifth place in the men's group A 100m breaststroke, seventh place in the men's group A 100m freestyle and seventh place in the women's group B 100m breaststroke.
Confucius Institutes

The Confucius Institutes are set up worldwide by the Chinese Language Council International to promote Chinese language and culture.

Enrollment of Foreign Students in Shanxi University

Join us and explore our wide range of study programs and enjoy a first class educational experience that makes you a part of a lively global community.