SXU to train talent for semiconductor sector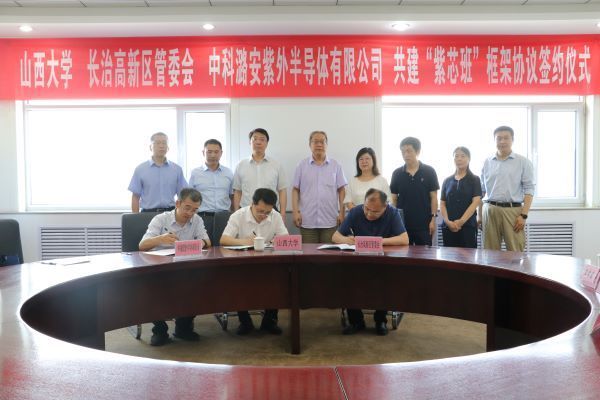 Shanxi University signs a trilateral cooperation agreement with Changzhi High-tech Industrial Development Zone and Shanxi Zhongke Lu'an Advanced Ultraviolet Optoelectronics Technology Co on July 5, to further improve the level of talent training. [Photo/sxu.edu.cn]
Shanxi University (SXU) – based in Taiyuan city, capital of North China's Shanxi province – signed a trilateral cooperation agreement with Changzhi High-tech Industrial Development Zone and Shanxi Zhongke Lu'an Advanced Ultraviolet Optoelectronics Technology Co on July 5 to further improve the level of business-oriented training for the semiconductor sector.
Representatives of the three parties signed an accord for the joint development of the Shanxi University-Zhongke Lu'an Zixin Class.
Ma Jie, vice-president of Shanxi University, said the establishment of the Zixin Class was an important measure to implement the strategic plan of innovation, technology and education-driven development of Shanxi.
Under the agreement, the three parties will focus on the needs of enterprises and cities, semiconductor and the information technology innovation application sectors.
They will jointly set up a Zixin Class and offer corresponding courses at Shanxi University, so as to explore a talent training and professional development model more oriented to corporate needs.
The university, together with the management committee of Changzhi High-tech Industrial Development Zone and the company, will be committed to cultivating outstanding engineers with firmness, perseverance, and a solid professional foundation.
They will also provide intellectual support for the development of the semiconductor industry in the development zone and throughout the whole of Shanxi province.
Confucius Institutes

The Confucius Institutes are set up worldwide by the Chinese Language Council International to promote Chinese language and culture.

Enrollment of Foreign Students in Shanxi University

Join us and explore our wide range of study programs and enjoy a first class educational experience that makes you a part of a lively global community.