Physicist takes pride in leading institute established in north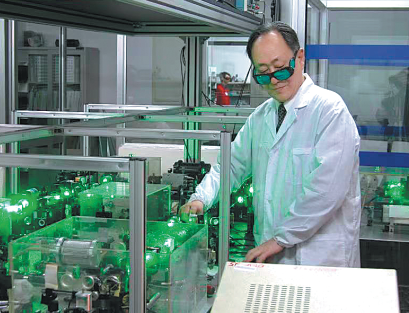 Peng Kunchi conducts an experiment at his lab in Shanxi University in Taiyuan, Shanxi province. [Photo/China Daily]
For 85-year-old Peng Kunchi, spending nearly 30 years establishing a world-class physics research institute in a less-developed northern province was one of the greatest achievements of his life.
"The Institute of Opto-Electronics at Shanxi University, established in 1985, went on a long journey from zero to a top-level institute," the physicist said. "We are now in the position to conduct dialogue and academic communications with labs across the world at the same advanced level."
Peng was born in August 1936 in Zhenjiang, Jiangsu province. He began studying physics at Sichuan University in 1957 and four years later decided to pursue a career in the field.
After graduation, he became a physics lecturer at Shanxi University. Since then, he has never stopped thinking about how to inspire students to learn, develop their character and build a stable and mature academic team.
Zhang Tiancai, one of Peng's graduate students, said: "I wouldn't have the achievements I have today if I hadn't gone to Shanxi University and learned from Peng. It's not a place to have fun, but it's a good place to conduct academic research, especially for people who really want to achieve something."
Recognition
Peng devoted great effort to the research and development of laser resonators and solid-state lasers, striving to make a breakthrough in related technologies.
In 1978, he discovered and corrected mistakes in an academic article on the journal Applied Optics by two United States researchers, and was invited to become a member of The Optical Society.
In 1981, Peng was selected as a member of China's first group of visiting scholars to the French National Centre for Scientific Research, a state research organization and the largest fundamental science agency in Europe.
He later went to the quantum optics laboratory at the University of Texas in the US for advanced studies.
During that period, he participated in early experimental research on the generation of squeezed states of light and developed an advanced laser.
At that time, quantum science had been undergoing development in the Western countries for more than 60 years, and experts in the field had been awarded Nobel Prizes.
However, for young Chinese researchers, quantum optics was still a new field.
Wu Ling'an, a researcher at the Institute of Physics of the Chinese Academy of Sciences, who studied in the US with Peng, said: "We were all very excited and felt that this was a new research field. At that time, some people said that they wanted to return to China to carry out new and cutting-edge research."
Peng, then 48, was among the group of researchers who wanted to return to China, Wu said. He was at the forefront of international laser research and had accumulated valuable experience in establishing high-level laboratories.
Returning home
In the early 1980s, Peng proposed to the Shanxi government the idea of returning to China to establish a laboratory. The provincial government quickly approved his plan and allocated $200,000 to Peng, who was still in the US, to purchase advanced laboratory equipment.
"He bought all kinds of equipment in the US, ranging from optical platforms to small multimeters. He bought them quickly and shipped them back to China," Wu said.
In 1984, Peng declined overseas job offers with good salaries and benefits, which went against the trend of Chinese academics at the time, and returned home.
Relatives, friends and colleagues told Peng he was making a mistake. However, he replied without hesitation: "We went abroad to learn advanced science and technology, not to pursue personal enjoyment of life. We should return to our homeland, where technology is still less developed, and there is still a lot of work for us to do."
In April 1985, Peng established the Institute of Opto-Electronics at Shanxi University. Through decades of effort, the institute has established itself as a world leader in the research and study of optoelectronics. The institute has prepared different types of light fields and completed a number of experimental studies into quantum communications, measurement and computing.
Last year, Physical Review Letters, an academic journal sponsored by the American Physical Society, published a research article by a Peng-led team from the institute.
According to the institute's official website, it has been committed to transforming basic research results into applied technologies in recent years.
Confucius Institutes

The Confucius Institutes are set up worldwide by the Chinese Language Council International to promote Chinese language and culture.

Enrollment of Foreign Students in Shanxi University

Join us and explore our wide range of study programs and enjoy a first class educational experience that makes you a part of a lively global community.