Shanxi University establishes Jinju Opera promotion base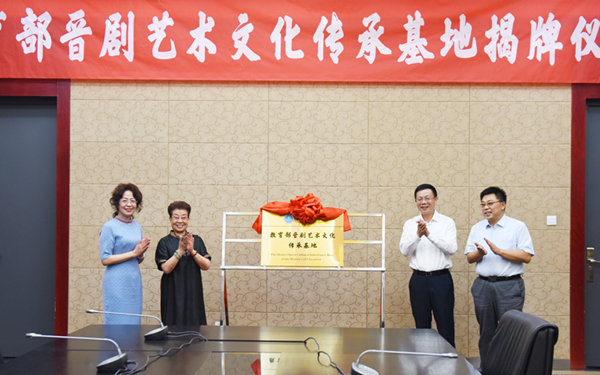 The founding ceremony of the Ministry of Education's Jinju Opera Art and Culture Inheritance Base is held at Shanxi University on June 30. [Photo/sxu.edu.cn]
The founding ceremony of the Ministry of Education's new Jinju Opera Art and Culture Inheritance Base was held at Shanxi University (SXU) in the city of Taiyuan, capital of North China's Shanxi province, on June 30.
Representatives of the Shanxi Vocational College of Art, the Shanxi Opera Research Institute and officials from Shanxi University's administrative departments and the School of Music attended the ceremony.
SXU President Huang Guitian gave a speech discussing the advantages and efforts of Shanxi University in passing down and promoting cultural heritage including Jinju Opera in recent years.
He said that as the only inheritance base for Jinju Opera in the country, the university would explore the long-term working mechanisms for traditional cultural inheritance and research, so as to contribute to the development of Shanxi's culture.
Initiated by the Ministry of Education in 2018 to further the integration of traditional Chinese culture into college education, the traditional Chinese culture inheritance base program is an important initiative.
It focuses on supporting colleges and universities in developing cultural promotion bases for folk music, folk fine art, folk dance, drama, opera, traditional handicraft and ethnic sports. The program plans to build about 100 traditional Chinese culture inheritance bases nationwide by the end of 2020.
Confucius Institutes

The Confucius Institutes are set up worldwide by the Chinese Language Council International to promote Chinese language and culture.

Enrollment of Foreign Students in Shanxi University

Join us and explore our wide range of study programs and enjoy a first class educational experience that makes you a part of a lively global community.