British musician takes Chinese music to heart
By Chen Nan (China Daily)
Updated: 2016-01-05
When British singer-songwriter Shaun Gibson came to China for the first time in 2014, like many foreigners, he was drawn to anything new. One thing in particular attracted him most: Little Apple, a catchy song, which has dance beats and repetitive lyrics.
The 25-year-old Gibson was so intrigued by the music that he adapted the song into an English version and uploaded it to YouTube and a few Chinese video websites, like Youku. During the first week, the video was viewed millions of times, which made him a viral star. Then the singer-songwriter adapted more Chinese pop songs into English versions.
Now, Gibson is having his first tour in 35 cities around China, which kicked off in Zhengzhou, Henan province last month and continues through Feb 2 in Shenyang, Liaoning province.
"I decided to write English lyrics so Western people can also appreciate the beautiful melodies that can be found in China," he says.
Hoping to keep a good cultural mix in his shows, Gibson brings his original songs as well as English adaptations of popular Chinese hits.
Recalling his first trip to China, Gibson was also impressed by organized dancing in public squares, which sees retired elderly women dancing in parks or other outdoor spaces.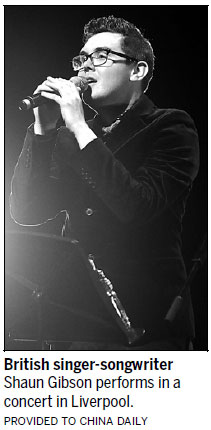 Early this year, Gibson performed Little Apple at a flash-mob event in Liverpool City Centre, which attracted a few hundred people to join in.
"There is nothing quite like it in the UK and I think it's such a lovely thing to do. I could feel such a great sense of community among the people there. It's so much more than a fitness class - it is a social gathering, such a warm atmosphere," he says. "I know it's probably seen as being totally uncool for youngsters to do that but I don't care, elderly people are cool too!"
With instruments like guitar and piano, Gibson has been writing songs and playing music since the age of 14. He graduated with an MA in music industry studies at The University of Liverpool, where he was first introduced to Chinese culture. Because of the partnering of Chinese and UK universities, lots of exchange students have started to come to the UK, including Liverpool, and curiosity got the better of him.
His access to Chinese music came from his Chinese friends, karaoke bars in UK, and the Internet.
Gibson agrees that Western music is based around rhythm, whilst Asian music focuses on melody.
"It's also why I enjoy re-interpreting the Chinese songs I make a connection with," says Gibson, noting that his most recent video, If I Stay, was adapted from a hit titled The Brightest Star in the Night Sky from the Chinese rock band Escape Plan. " It gives me the chance to take the Asian elements and give them a Western twist, creating something new and different."
"Shaun is different from all the other Western singers, as he truly loves Chinese culture. He has stories about China, and he sings Chinese songs just like local singers although he doesn't speak Chinese," says Tina Zhang, operations director of Magic Sound Entertainment, which is managing Gibson's China tour. The first Chinese entertainment company launched and registered in the UK, in 2010, it has organized more than 300 concerts over the past five years with concerts of Chinese singers in the UK as well as bringing Western artists to the Chinese market.
"Compared to the UK, the Chinese music industry has developed extremely fast over recent years, with various new styles and many young singers and producers emerging, all making very good music," Zhang says. "I believe there is a place for Chinese music in the Western world, and more could be done to promote Chinese culture and Chinese music internationally."
For Gibson, his ultimate goal as a singer-songwriter is to create "a new genre of East meets West".
"On the surface, China and the UK may have little in common, whether politically, economically or socially, but I believe true art and true culture lies in the hearts of people. The world is smaller than it's ever been, and people from all kinds of backgrounds are coming together to share their experiences. I think it is about time music and art started to reflect that," he says.
chennan@chinadaily.com.cn
(China Daily 01/05/2016 page20)
What we do
SAFEA is responsible for certifying foreign experts to work in the Chinese mainland and organizing overseas training for Chinese technical and managerial professionals.