Tanling Tianhu Lake
50km northeast of Lianzhou city, Tanling Tianhu Lake (also known as Guangdong Heaven Lake in Forest Park) is situated in Fushan Mountain near Tanling town and covers an area of 169 square kilometers, with an altitude of 630-1530 meters. It is 60km from the ancient town of Lianzhou and a little over three hours' drive from Guangzhou. The area has good transport infrastructure as well as sound modern communications facilities and ample power supply.
Located within the scenic area Tanling Tianhu Lake is a mountain reservoir with 12 square kilometers of water surface area, 180 million cubic meters of storage capacity and 37,500kW of installed capacity at the power plant. In addition, there are six small hydropower stations, with installed capacity of 7620kW; and 3 small reservoirs, of which Panjiadong Power Station Reservoir is 1200m above sea level and has 1.5 square kilometers of water surface area.
Tanling Tianhu Lake's boundless water surface is broken only by numerous small islets and rugged rocks. The water is clean and calm. The lake is surrounded by lofty mountains and dense primeval secondary forest. A 34km long meandering road runs around the edge of the lake.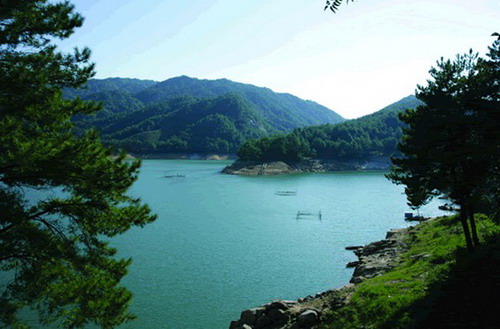 The water is clean and calm. The lake is surrounded by lofty mountains and dense primeval secondary forest.
Many rare animals such as the South China tiger, black bear, red deer, the Himalayan blue sheep and the Stump-tailed macaques live in the forests around the lake. Rare water fowls often visit the lake and swim on it. Not surprisingly the area is defined as national a nature reserve. Here, the highest air temperature at the peak of summer is 26℃, while in winter, it snows heavily, making it an ideal place to escape from the summer heat in summer and to watch the snow in winter.
Heaven Lake Forest Park is located in the hinterland south of Nanling Mountains and enjoys a unique geographic location. It is on the northern edge of the southern subtropical zone, and boasts excellent natural conditions; not too hot in summer and snow showers in the winter. Annual average temperatures are 16℃, with extremes reaching as low as -5--35℃ and annual average precipitation of 1,632mm. There are a great many varieties of plant here; Taiwan pines grow on the cliffs; The forest is luxuriant, with plants and animals in abundance.
The National Nanling Nature Reserve is also located near to the forest park and has a Protection Station in Tanling town. On February 21, 2000, after the provincial forestry authority approved Heaven Lake Forest Park as a provincial-level forest park, Tanling Town Government and Lianshan Municipal Forest Bureau signed an agreement on joint protection and cooperative development of local resources, in doing so promoting and cultivating the natural scenery, forest landscapes and other tourism resources, and invited Guangdong Forestry Design Institute to take over overall planning of the park.
Guangdong Heaven Lake Forest Park is suitable for sightseeing, summer holidaying, countryside adventures, appreciation of rare wild animals and plants, and other popular activities which involve getting close to nature. The hot mineral springs located nearby can also be visited. It is an area suitable for landscape photography with beautiful scenes of lake sunrises, evening glows and fishing boats all waiting to be captured on film. Its untouched natural surroundings offer a perfect environment for writers, painters and musicians to engage in creative activities. The more than 5,000 mu wide fruit base dominated by yellow pear and crystal pear around the lake, and the 18000mu of lake surface area provide excellent conditions for the production and processing of high-quality fruit, aquaculture and other agricultural products.