Lower tariffs to make foreign brands shine
( China Daily Europe )
Updated: 2017-12-17
| | | | | | | | | |
| --- | --- | --- | --- | --- | --- | --- | --- | --- |
|   | | Print | | Mail | | Large Medium  Small | | 0 |
Analysts say Chinese producers also could benefit in the long run after short-term pain
Tariff cuts on a wide range of consumer goods will give a boost to foreign brands in the Chinese market and, in the long run, should benefit domestic producers, analysts say.
Effective this month, tariffs on 187 product categories such as baby formula, diapers and cosmetics will be reduced from 17.3 percent to 7.7 percent on average, according to the Ministry of Finance.
Tariffs on some types of baby formula and disposable diapers will be cut to zero.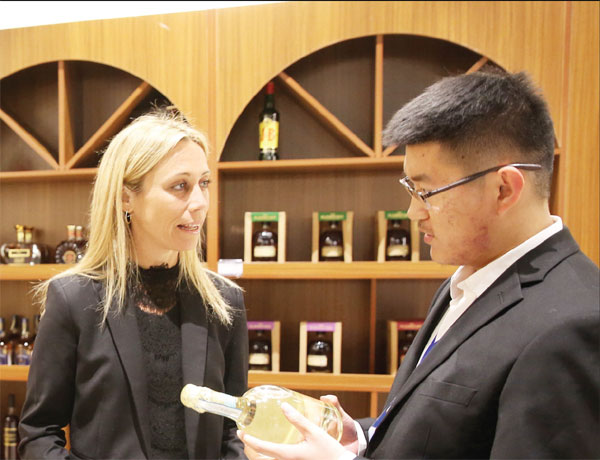 A representative from a foreign winery introduces its wines to a guest during a recent wine expo held in Qingdao Free Trade Port Area in East China's Shandong province. Zhang Jingang / For China Daily
The reduction will allow consumers cheaper access to high-quality or specialty products that cannot be produced at home to meet increasing domestic demand, the ministry said.
The new plan echoes the government's pledge to bolster imports, open up the domestic market and strike a trade balance.
The move will help companies such as Nestle SA and Danone, as Chinese parents prefer foreign brands after a series of issues with domestic baby products.
Research by GF Securities showed foreign brands of infant formula accounted for about 50 percent of China's market, down from a peak of 57 percent after a 2008 scandal.
Foreign brands hold a prominent say in first-and second-tier cities. According to Analysys.cn, a market data provider, 73 percent of consumers in first-tier cities favor imported infant formula over domestic brands.
According to a Goldman Sachs report, China's dairy industry sales will increase by about 15 percent to 123 billion yuan ($18.6 billion; 15.8 billion euros; £13.9 billion) by 2020.
Procter & Gamble is among the foreign companies poised to benefit.
"While P&G products for Chinese consumers are largely manufactured in China, this will allow Chinese consumers even more access to our latest global innovations," Bloomberg quoted P&G's Rene Co as saying.
China plans to increase imports to meet domestic demand and appease complaints about its massive trade surplus.
To bolster imports, Wang Bingnan, vice-minister of commerce, promised fiscal and monetary policy support for lower tariffs on consumer goods, faster customs clearance and reduced paperwork.
Tariffs have been cut four times on imported consumer goods since 2015, with taxes on 152 categories of products lowered by an average of 50 percent.
Analysts say lower tariffs will encourage people to buy imported products at home instead of overseas, which boosts domestic consumption.
According to the World Tourism Organization, Chinese tourists spent $261 billion overseas in 2016, up by 12 percent year-on-year.
If one-third of that consumption could be turned into domestic consumption, experts say, it would lift the contribution of consumption to GDP by 1 percentage point.
While the new move may be a blow to domestic producers in the short run, it should mean improved quality and lower prices in the long run.
The milk industry has been in the shadow of a safety scandal since 2008, when infant formula produced by Sanlu Group, then a leading dairy company in northern China's Hebei province, was found to contain the chemical melamine, which killed six babies and left thousands seriously ill.
The eventual outcome was that domestic infant formula producers improved their production and delivery processes.
The Dairy Association of China said 99.5 percent of dairy products checked in 2016 were up to standard and no illegal additives, such as melamine, had been detected in fresh milk for seven years.
Yang Zhiyong, a researcher with the Chinese Academy of Social Sciences, said it is hoped that lower tariffs will bring good competition between domestic and foreign brands, which creates opportunities for domestic producers.
Xinhua