Amateur troupe keeps Yaoju Opera alive
Updated :2015-12-30
(insightningbo.com)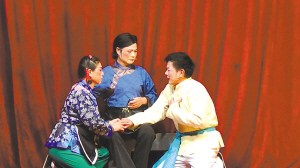 Yaoju, a local opera with a history of 250 years, is popular in Cixi and Yuyao areas. Kandun Sub-district in Cixi was recently awarded for promoting this traditional art form.
Kandun is the birthplace of Yaoju, also known as Tanhuang. The Kandun Yaoju Opera Troupe has staged more than 100 shows this year for rural audiences. It drew support from the Cixi cultural department and many town governments.
The troupe is busy between November and February as they bring Yaoju operas to villagers in the region. Most of its 24 members are amateur performers; some are retirees.
Yaoju Opera was included in the fourth list of Zhejiang intangible cultural heritages in 2012. The Ningbo government set aside 400,000 yuan (US$61,620) as funds to support Yaoju troupes.
To find young performers, the Yaoju Opera troupe often visits local kindergartens and primary schools to give lectures and the Kandun Central Kindergarten received a municipal award for its Yaoju program.