Yong Opera
( insightningbo.com )
Updated: 2015-12-23
| | | | | | | | | |
| --- | --- | --- | --- | --- | --- | --- | --- | --- |
|   | | Print | | Mail | | Large Medium  Small | | 0 |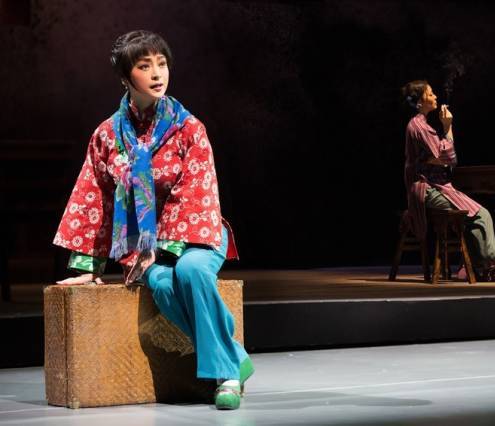 When the city of Ningbo, Zhejiang province held its First Yong Opera Festival this past December it delighted many Yong opera enthusiasts with such classics such as "Half a Scissor", "The Pearl Tower", "Yang Naiwu and Xiaobaicai" and "The Golden Conch", all performed the dialect of Ningbo city which was called Chinese "Yong" for short, hence the opera's name.
This art form has a more than 200-year history and is considered one of the city's "Three Golden Flowers", along with Yao Opera and Ninghai Flat Tune, and was previously known as "chuanke", or "Ningbo tanhuang" and highlighted the emotional entanglement of lovers, with Pawned Wife being a typical example, telling the story of a poor woman who was sold by her husband to a rich family but still pursued a bright life.
The opera was banned for a while because of its satire and sensitive topics during the 1930s and 40s, then had to change its name to "Siming Civilized Opera" or "Ancient Song of the Yong River". It was given its current name after the founding of New China in 1949 and was added to China's cultural heritage list in 2008,with Yang Liuting recognized as a national star of this particular form.
It has a very good reputation among senior opera fans and Shanghai's Jinfeng Yong Opera Troupe was a renowned troupe in the past, with Xu Fengxian, Wang Baosheng and He Xianmin as its most famous actors.
Over time, the opera improved its themes and tunes, with more than 90 types, including folk songs and local tunes.But it began to decline in popularity because its old script and increasingly broader cultural lives. Fortunately,however, the government has joined hands with yong opera artists to find ways to protect it and keep its cultural heritage alive.