Snow comes to Shenyang Imperial Palace
(chinadaily.com.cn)
Updated: 2016-12-09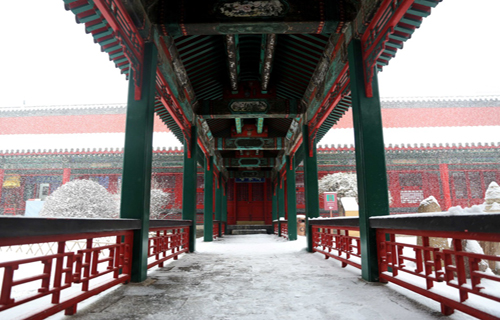 Snowy scenery captured in a corridor at Shenyang Imperial Palace on Dec 8. [Photo/Xinhua]
Shenyang Imperial Palace in Northeast China's Liaoning province welcomed its third snowfall of 2016 on Dec 8, with the imperial palace resembling an icy fairyland.
Shenyang Imperial Palace, also called Mukden Palace, was built in 1625 as the residence of Nurhaci and his son Hong Taiji, founders of the Qing Dynasty (1644-1911). Shenyang was later used as an accompanying capital after the dynasty moved its capital to Beijing in 1644.
Currently, it is one of the most well-preserved palaces in China.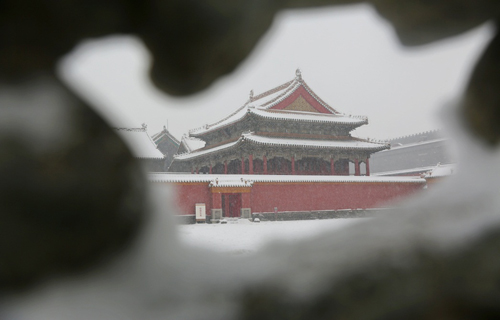 A view of snow-covered Shenyang Imperial Palace, captured through a floral window on Dec 8. [Photo/Xinhua]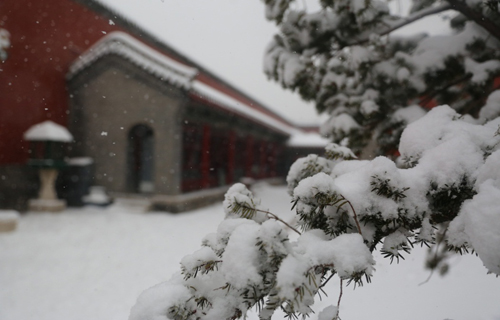 A snow-covered pine tree at Shenyang Imperial Palace on Dec 8. [Photo/Xinhua]
Covering an area of over 60,000 square meters, Mukden Palace has a total of 114 ancient buildings and more than 500 rooms, along with collections of valuable porcelain, lacquers, jewelry, writings and paintings, as well as clothing from the Qing Dynasty (1644-1911).
In July 2004, the World Heritage Committee added Mukden Palace to its representative list of World Cultural Heritage sites.
At present, Mukden Palace serves as a museum and research institute for the history and cultural relics of the Qing Dynasty (1644-1911).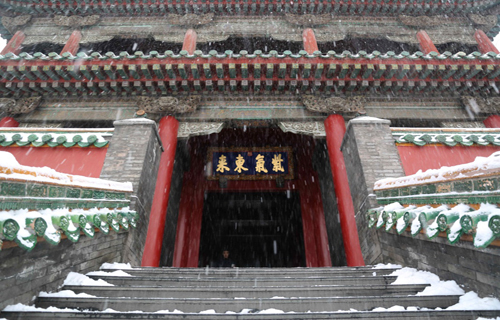 A photo taken at Shenyang Imperial Palace on Dec 8 shows ancient architecture with a dusting of snow. [Photo/Xinhua]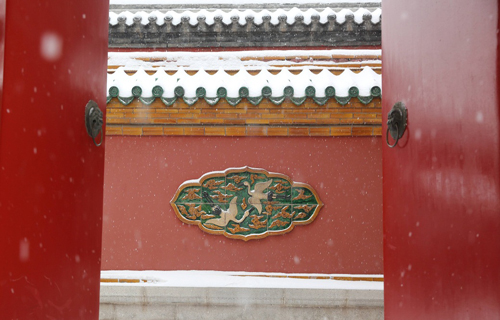 The walls at Shenyang Imperial Palace during snowfall on Dec 8. [Photo/Xinhua]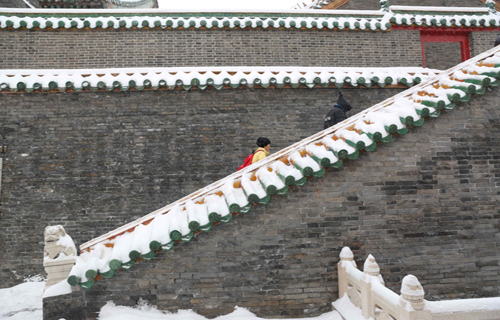 Tourists visit snow-covered Shenyang Imperial Palace on Dec 8. [Photo/Xinhua]