Wolong Lake sees large numbers of migratory birds
(Chinadaily.com.cn)
Updated: 2016-11-08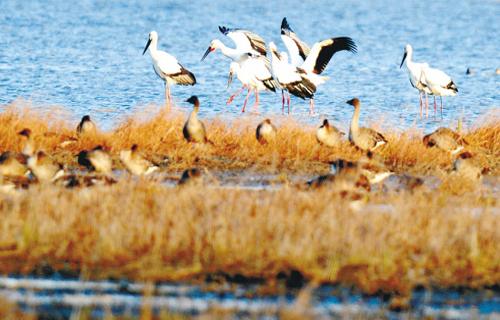 Hordes of migratory birds are seen at Wolong Lake in Kangping county of Shenyang city, Northeast China's Liaoning province, Nov 7, 2016. [Photo/Xinhua]
As the first snow of the season hit Shenyang on Nov 7, the number of migratory birds around Wolong Lake reached their peak, making Wolong Lake a good bird-watching spot for tourists and photography enthusiasts.
This year, Wolong Lake has seen more than 60,000 migratory birds, including storks, cranes, egrets and wild geese; make stops for food and rest during their migration to warmer areas of southern China to escape the cold since the beginning of October.
Compared with previous years, the arrival time of the migratory birds is half a month ahead of schedule and the number of birds is twice the usual number.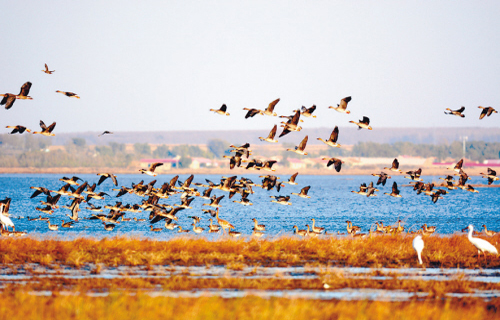 A large swarm of migratory birds fly above Wolong Lake in Kangping county of Shenyang city, Northeast China's Liaoning province, Nov 7, 2016. [Photo/Xinhua]
Wolong Lake, located in Kangping county and covering an area of 127.5 square kilometers, is the largest freshwater lake in Liaoning province and the second largest in Northeast China. It is an important environmental protection zone in the area.
In recent years, the Kangping government has enacted more than 30 measures to improve the lake's environment and protect wild birds.
At present, Kangping is establishing a dam extending 8.7 kilometers to assure the food supply of migratory birds.
Due to the lake's improved wetland ecosystem, the lake has become an ideal habitat for migratory birds, and it has seen a distinct increase in the number of wild animals over the past few years.
At present, Wolong Lake has a total of 143 different kinds of birds, of which six are national first-level protection birds.
A group of egrets feed in Wolong Lake in Kangping county of Shenyang city, Northeast China's Liaoning province. [Photo/Xinhua]